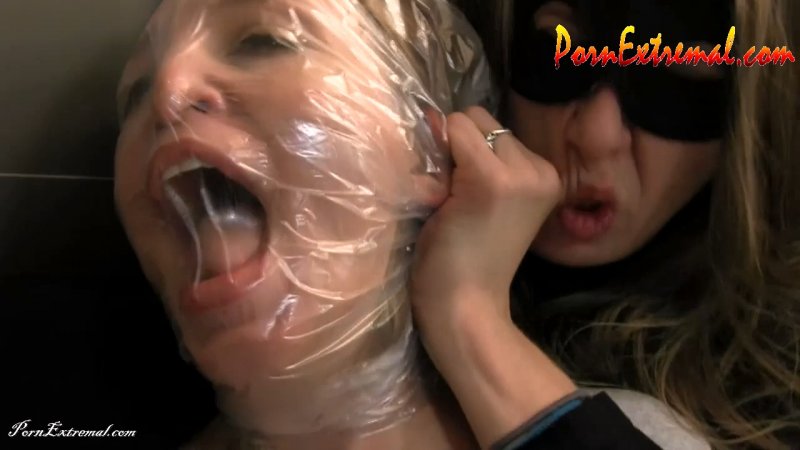 [New, Joint] Chris' Corner – Her Deadly Dreams Dream 3 Laundry Bagged
Categories: Snuff Fetish, Rape, Strangle, Bagging, Shooting, Abused
Description: Belle is an adventurous woman that loves all of life's pleasures and especially PANTYHOSED FEET.
She constantly has dreams and day fantasies about her co workers, baristas, and everyday women on the street, in the throws of strangling, smothering, bagging, or choking out some hot chick in pantyhose, her favorite color being black. In most of her dreams and fantasies, she is dressed like a stealth assassin, clad in black, like a CAT, with black pantyhose, and a bandit mask, sneaking without shoes into the room where her victim is entranced, asleep, or even, distracted by what they are doing at the time. She always plays with them when she finishes, sucking on their pantyhose covered toes, sniffing and whiffing their bodies and especially the feet. Kissing and sucking all over their bodies, she makes her way out of the dream after a catchy line that mocks the victim. Every movement, cat like, feet arched and pointed, moving across the bodies taking in the pantyhose victims.
DREAM # 3 Laundry Bagged
As she really starts to get into her self pleasuring while dreaming up her favorite scenarios, Belle spices it up a bit more and takes it to the next level. She imagines the hot blonde, in the laundry, with all of her pantyhose in a basket. She takes each one and smells them from feet to crotch, even wadding them up and taking in big whiffs. The Bandit has changed a bit too, with her hair down, and wearing short tight shorts with her sexy black pantyhose. She eyes the blond as she whiffs her pantyhose as she readies them for the laundry, Belle just watching in the doorway waiting for the right moment when she can pounce on her and pull the clear plastic bag over her head, and stop the air from flowing. As SaraLiz sniffs and starts to put down the last piece of hosiery, the Bandit attacks from behind swift and steadfast. In one move she bags, spins her around gets her footing and yards on her head with the bag in it. The blue eyed blond reacts and thrashes, her feet in pantyhose, sliding around on all the loose pantyhose that was knocked on to the floor. She kicks and makes noise but can't get air, her eyes are so wide they look as if they will burst, and the bag sucked so far into her mouth it looks like it is part of her face, and she is in a plastic mold. Her tongue fishes, pushing and mashing against the bag, then lolling then pushing again. She kicks and jerks grabbing at the bag but she fades and dies after she is cut off for a few minutes. She is still upright and finished off when the Bandit removes the bag. In her fantasy the dead woman is upright and eyes open tongue slightly lolled. She goes to work getting her in position so she can check out her sexy pantyhose covered feet, sucking and kissing, licking and smelling her feet. She gets her sexy, hosed feet in the mix too, stretching them out over the dead gal's legs. After kissing and caressing her and making a few backhanded comments, she grabs the gal and lifts her down to the floor in front of the washer, sitting her body on the floor and laying her top side on the washer door, and her head looking through the washer window. She snickers as she leaves, excited…but wait, this pile of Pantyhose on the floor must get one last whiff. She picks up the pile and enjoys the wonderful aroma before exiting for pans off the dead woman's face. After fading back out of the 3rd dream, Belle is starting to feel it and get closer to orgasm, closer to her reality that not even she knows. She is so far into it, the next episode just might be reality…..Find out tomorrow.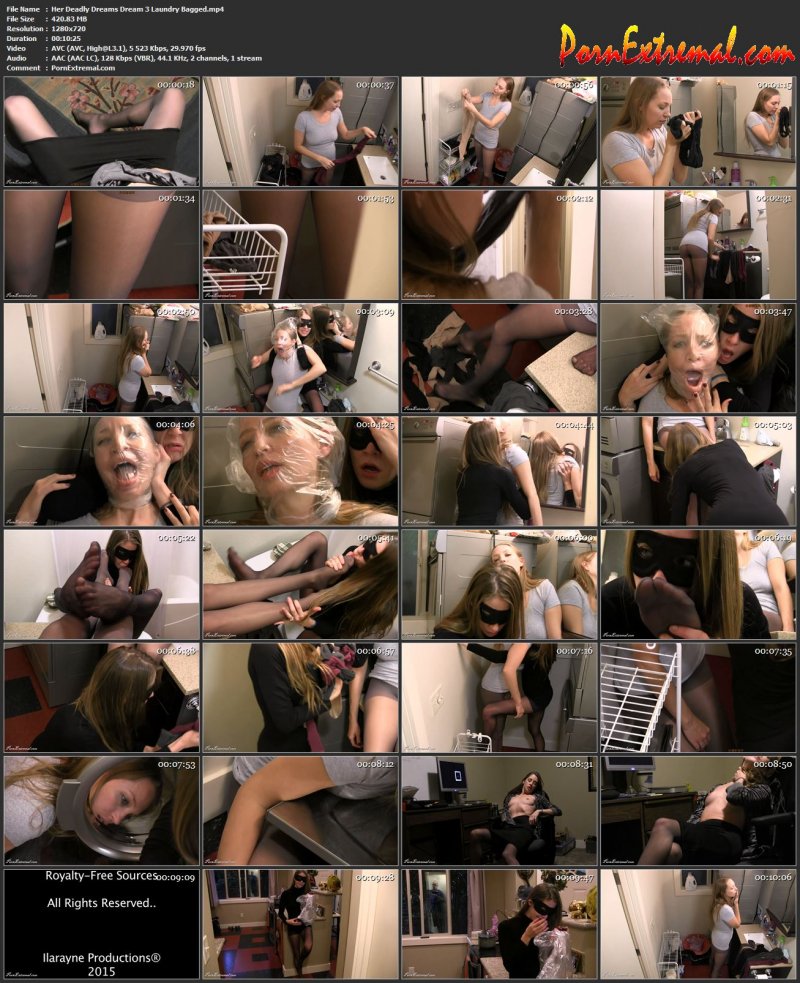 Her_Deadly_Dreams_Dream_3_Laundry_Bagged.mp4