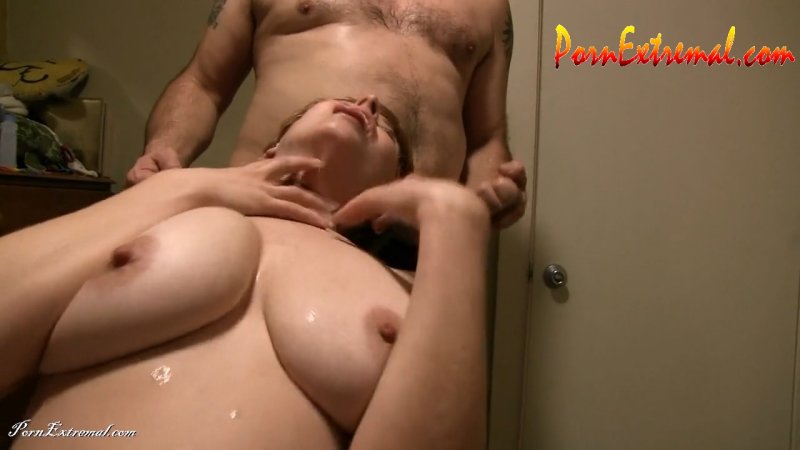 [New, Joint] Chris' Corner – My Cousin Tracy
Categories: Snuff Fetish, Rape, Strangle, Bagging, Shooting, Abused
Description: Chris and Tracy grew up together in the same small town, on the same street. Being close to the same age and being cousins, gave them lots of opportunities to learn and grow. It also gave them plenty of time for mischief and of course for learning new and interesting things. While playing in Dads shed, they came across a few magazines that had been stashed by grandpa, depicting crime photos and detective stories. As they got older and more mature physically, they started to mimic the stories in the magazines and use their spare time for role play. They would use toy guns and knives, garden hoses and extension cords, even one of Tracys moms(Chris aunt Grace) thigh high stockings to wrap around her neck and pretend that she is dying a sexy death, and play dead, holding her eyes for as long as she can while he said a few words, or just stood over her, panning her slowly. As they grew older and moved on they still kept in touch.
20 years later they finally get a chance to meet again as Tracy is on the West coast and staying with Chris while she is in town. They drink a tall cocktail as they discuss a few things from their days role playing. As they talk, Chris can't help but notice that Tracy has really developed in many areas since their days back in the shed and that there seems to still be a spark of chemistry between them. As she powers through the drink, she gets hot talking about the times they had. As she finishes her drink she gets an idea, since they are on the subject, Chris should get the fake knife and gun he kept all these years and play some more role play games. That is exactly what they do and it begins with her guarding the door, him sneaking behind her and stabbing her with the dagger, in the back as she dies sexily on the floor.(THERE ARE 6 INDIVIDUAL ROLEPLAY SHORT CLIPS IN THIS VIDEO, ALL DIFFERENT GUN OR KNIFE, NO BLOOD OR FX, BUT WITH SEVERAL ANGLES, POV, AND BODY PANS OF ABSOLUTELY AWESOME DEATHS)
They play the 6 different role play games and they are collapsed on the floor glowing in the aftermath when they almost have a moment where they feel like they want to continue this in the bedroom, but at the last minute, in fear of embarrassment, she retires to sleep in his bedroom, while he stays on the couch. They say goodnight and Chris sits on the couch, looking like he needs a cold shower, and Tracy shuts the bedroom door and rolls her eyes and tongue, touching herself up against the door. That starts a whole slow striptease she does for herself, imagining Chris touching her, and thinking about their role play that has obviously given her a boost in her sex drive. Before long she is on the bed, stroking her pussy hair and then going for it all. She fingers herself furiously, going back and forth from her nipples to her clit with the other hand, slowly rising to a climax. Chris, in the next room can't help but hear the moans and occasional murmurs of what sounds like his name. He starts to undress and goes to the door, peering in. He grabs a silk stocking from his old school collection and stands at the door with it cracked open, watching her about to cum on the bed. As she climaxes, he is already stroking himself and the other hand tucks the stocking in his underwear so it is ready for when he gives her the surprise. After she cums in an earth shattering, quivering orgasm, she looks up and he is there. For a split second she is embarrassed, but then just wants more, especially with someone she trusts, her cousin Chris. She uses her finger to tell him to enter the room. She pulls his cock out of his underwear and strokes it with her own spit and rubs his balls with her other hand. He returns the favor touching her sweet pussy lips. After she handles him getting him nice and stiff, she says "I want you to fuck me, now"(POV) He obliges her and pushes her back on to the bed, fucking her so he can see her tits bounce, and then flips her over so he can hit it from behind. As he is pounding her from the back and she is grabbing the sheets close to another booming orgasm, he pushes her upright by her breasts, hugging her close, then grabs the stocking from his underwear and starts to strangle her with it. At first she thinks it is a game, but as he grits his teeth and pulls it taught, cutting off all of her air, she goes nuts and starts to thrash. He decides to take care of the strangling part then he will have his way with her afterward. He strangles her upright as she thrashes about, flailing her sexy arms, digging at the stocking embedded in her neck. After she has gone a while, he takes her down so he can see her feet thrash about, and her legs kick and stiffen. Her toes spread and flex on her sexy feet. This is getting him very turned on and he is not thinking about anything but the throws of passion. After a long bout, drooling and choking to death, Tracy goes still, eyes wide almost in panic, still, and naked, just a stocking around her neck. Chris is so turned on he is only seeing red and purple, he grabs her body by an arm and a leg, then pulls the body to the edge, tasting her sexy soles, and her pussy before he enters her, fucking her hard and soft, squeezing her nipples and watching them bounce back and forth. As he gets close to orgasm, he grabs her feet and fucks them for a moment before blasting a load all over her sexy foot. He continues to fuck her foot, sticking his cock through the toes, and rubbing his cum all over her feet, finishing his orgasm. After he is done he drops the foot, then cleans them off. He poses her in his favorite, feet close together, knees bent, one arm up one down, pussy exposed, eyes wide open tongue slightly lolled. What a sexy specimen, and it was all in the family. Now, Chris needs to figure out what to do and cover his tracks. He calls his Aunt Grace and asks if she has heard from Tracy because she has not arrived. He knows he has a lot of work to do and needs to probably get out of town.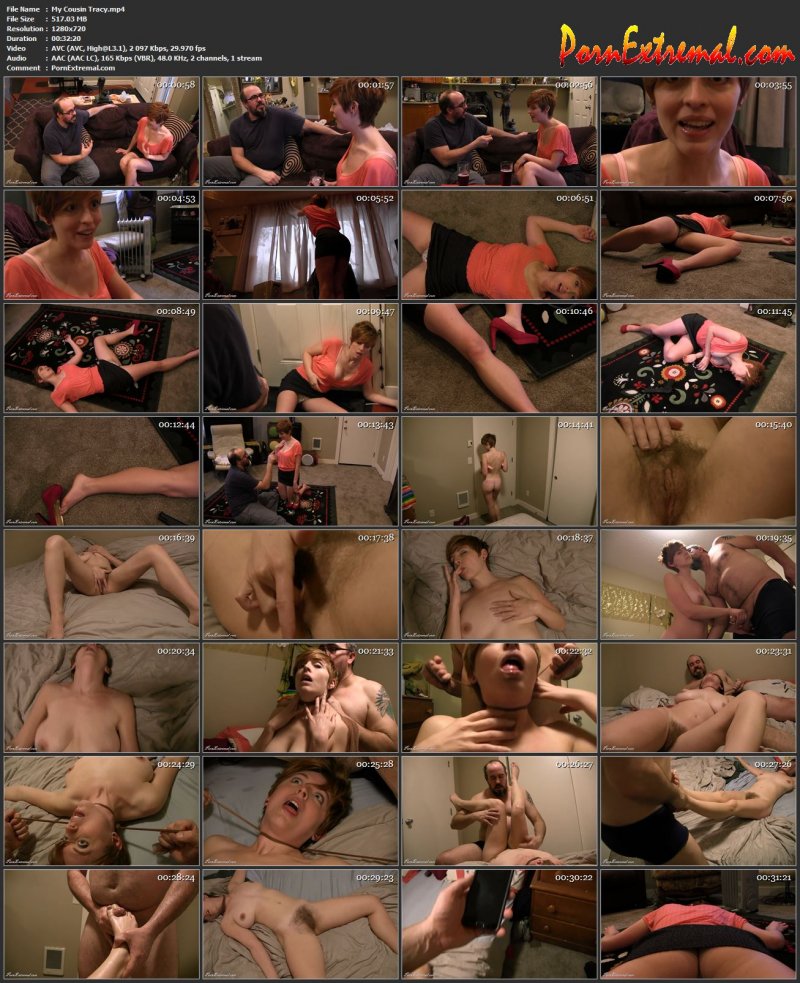 My_Cousin_Tracy.mp4