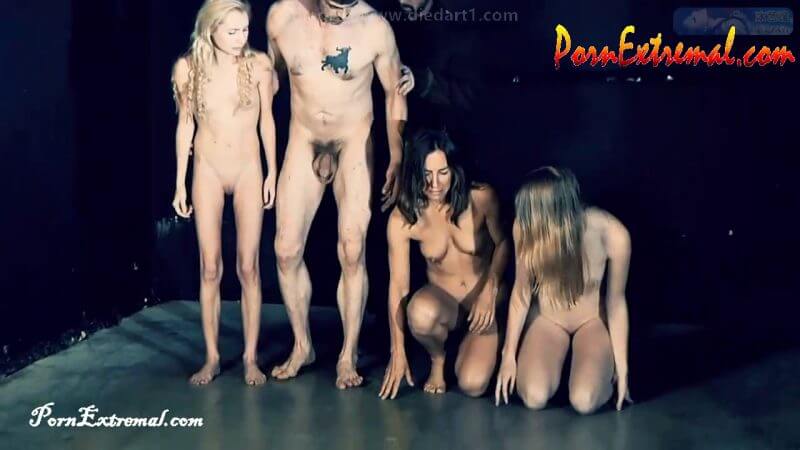 Peachy Keen Films – Chekist
Categories: Strangle, Death Fetish, Snuff Play, Shooting, Abuse, Rape, Bagging
Description: We shall start in the dark, dank building—a converted meat processing plant, where a new meat is process–not for consumption….no, worse, eradication.
The prostitutes were innocent, but not in the eyes of the Chekist. They were scourge on society–not to be trusted and most importantly, not needed. Young girls mostly, these, barely above teenagers were lead to the chamber. The guard had his job. Countdown the firing squad. They huddled in on last effort for connection—the feel of warmth–of life. Then the shots rang out and there bodies flopped lifeless to cold, dirty concrete. They placed them on the cart to be disposed of later in large pit in the countryside.
A family was next…..another in a long line of them over days and days of processing. Arrival, process, countdown, cart. The guard was numb with faces of so many…young, old—it did not matter. They were enemies as determined by the Chekist council. If the father was bad in the eye of the council, so was the mother, the daughter, the son…..and so on.
This family, like so many others were middle class. They came in there Sunday dress. It was a last show of who they were. A last attempt to make it about real people. The guards no longer saw real people. He saw a nice had, shiny jewelry, some stockings that would look good on his niece should be be allowed to keep them.
They marched them forward, past the bodies of the dead whores…..the youngest daughter looking in terror. Into the next room, it was time to give up all they had. One by one, at gunpoint, they were forced to undress. All the clothes. All the jewelry. It all went into boxed for later categorization.
Naked, the family was marched into the next room. Like the other room, it was dark. A single light illuminated their naked forms. They were told to kneel and as they did they huddled together, even prayed. The father, trying to comfort his girls.
Finally, they were told to straighten and as they did, the firing squad readied. The guard counted down. And the shots rang out.
The family all fell over in a massive flop. All were dead, but the youngest daughter was not. The guard, clearly frustrated by this even, walked over, aimed and finished her off with his pistol—shooting her in the forehead. Her bladder released at her death.
Now begain the process of loading them up on the cart. One by one, they lined up the bodies, finishing with the youngest daughter on top. The cart was rolled away.
Later, one of the guards came back. The bodies were still on the cart. A lucky break as normally they would have been loaded into the larger bin for disposal. He picked up the lightest, youngest girl and took her off into another room where discarded clothing would act as a cushion.
He set her down and proceeded to explore her young body. No one would come now. He had plenty of time. He touched her all over and put her hand on his throbbing cock. Her cold hand felt so good. He rubbed her hand along his shaft, then decided to put his cock in her mouth. He fucked her mouth for a while in different positions, then was ready to fuck her.
Her pussy was tight. It was clear to him that she had no experience before her death. He would be her first. He found that thought exciting as he pushed his large cock into her tight pussy. It got easier and he fucked the dead girl for a while, changing positions a couple time. When he was ready, he shot his load on her. Then, conveniently, she was laying on a tarp, so he dragged her away.
Fetish Elements: Violence, Nudity, Teenage/Young, Explicit Sexual Content, Historical, Costuming, Re-enactment, Firing Squad Execution, Shooting, Bladder Release, Stripping, Familicide, Necro BJ, Necro Fucking, Cim Shot, Body Views, Foot Views.