Peachy Keen Films – Lesbian Massacre
Categories: Death Fetish, Necro, Brutal Amazons, Fantasy Snuff, Petra
Description: Two students meet their teacher at her home during summer break for some private tutoring. Right away, they move to the bed, and peal there clothing off for a long lesbian 3-way.
Later, the teachers husband hears the moans through the bedroom door and in a jealous rage, he coldly enters and executes each girl. First, he shoots Hunter in the back of the head as she is eating out her teacher. Then, he shoots Reyja several times in the chest, then once in the head. Finally, as Janice scrambles to her feet and attempts to beg for her life, he cuts her off mid-sylible with a shot to the head. She falls face first on the bed. All three lesbians are dead.
But, it was just a fantasy…
Now he is really walking into the room. It's a little different this time. He still starts out by shooting Hunter in the head as she is sucking on her teachers tits. She is dead instantly with a gaping hole in her forehead.
Then, as Reyja struggles to comprehend what just happened, she takes two shots to her chest, then moments later two more. As she slides, dead down the wall, he makes sure by shooting her in the head.
Janice is freaking out. She shoves Hunters dead body to get up and as she begs her husband, he shoots her 3 times in the abdomen. She falls across the bodies, heaving in pain. He finishes her with a heart shot. She gushes blood out of her mouth and is dead.
Now as he looks at the three dead girls, 10 shots between them, he decides he cannot waste this opportunity.
He strips off his clothes and proceeds to fuck both student Hunter and his cheating wife and teacher, Janice.
When he is done, he leaves the bloody mess for someone else to find.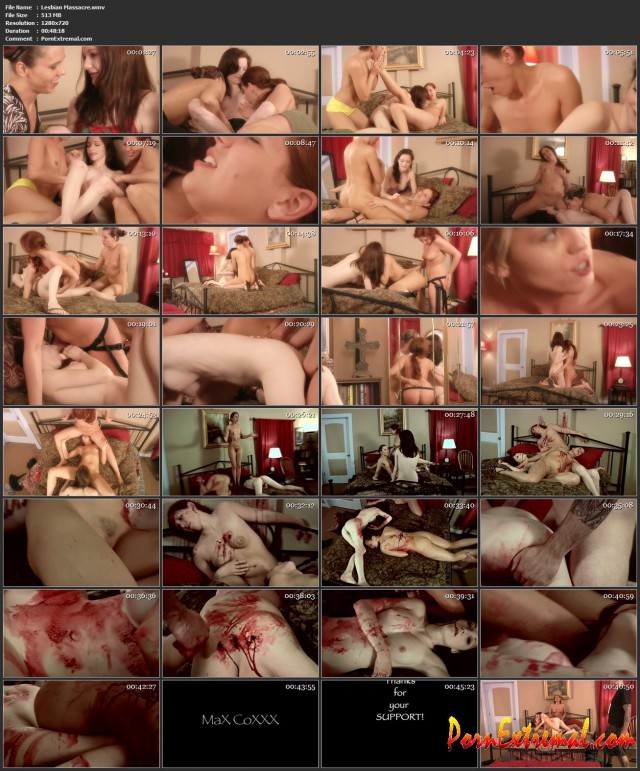 Lesbian Massacre.wmv