Peachy Keen Films – Missy Morgue
Categories: Death Fetish, Necro, Brutal Amazons, Fantasy Snuff, Petra
Description: It's late night at the morgue and the night janitor is cleaning one of the rooms when he realizes he is not alone. A body bag lies on the exam table. He opens it up and is delighted to see a gorgeous corpse.
He takes off his headphones, sets his mop down and gets to work.
He unzips the body bag and reveals a beautiful girls. Tragically, she died way before her time from violence. Some bruising around her neck indicates some sort of strangling. But, he was not there to determine the cause of death–he was just the janitor. No, he was planning much, much more.
Over the course of the evening, he felt her up and down–through her clothes, then slowly removing them. He paid special attention while he pulled off her boots and looked closely at her adorable little feet. There was much to do and he did it all.
Stripping, fondling, rolling, lifting–there was no part of this girl that was not moved and touched. But that was not all, as his touching was more then mere curiosity, but it was erotic as well. He explored her in ways that only an intimate lover would be able to. She did not seem to mind.
In the end, he slid her head off the table, slipped his cock into her mouth and throat-fucked her until filling her mouth and throat with cum. When he set her back up, cum poured out of her mouth onto her legs and metal table.
He layed the beauty back down, said his goodbyes, and left to go finishe his shift.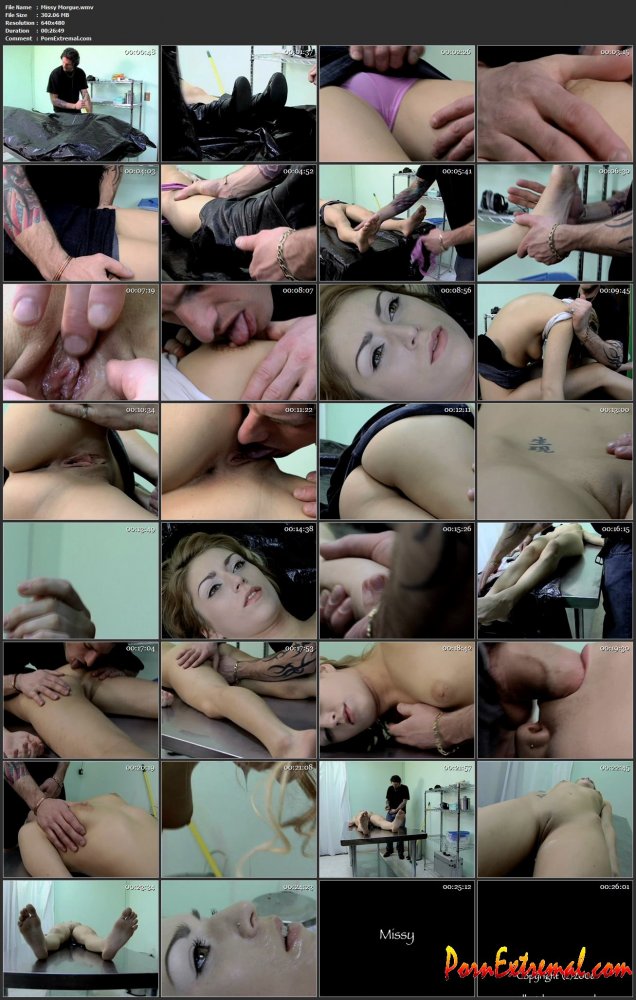 Missy Morgue.wmv