Peachy Keen Films – Morgue Story 2
Categories: Death Fetish, Necro, Brutal Amazons, Fantasy Snuff, Petra
Description: It's dark. By flashlight you enter the room. A body lies in chalk circle. A ritual. A sacrifice. Her hands are zip tied behind her, bruising around her wrists. Her throat has been slit. Her body abused.
She was a collage freshman. Her first year. 20 years old. Poor, innocent girl.
You get out your camera and turn up the lights. What does the evedence tell you. You place markers and take photos, turning her body on it's side to see the damage to her neck and and crimson soaked shirt.
You cut the tie off her wrists–bagging it as evidence. You bad her hands and finally, call it in. Who killed this poor girl? Who indeed.
THE MORGUE
A body lies dead in the morgue. A poor, young girl. Collage freshmen and a sorority suster at Pi Phi Omega. She is 20yo and her throat has been slit. She has a gash in her forehead. Her body has been abused. She has been dead 7 hours.
Dr Burns arrives for the prelim exam. It is her job to continue the evidence trail, gathering what has been bagged, and adding whatever new materials she finds in processing. Then, the lot is sent to the lab for analysis.
Today, she has an intern. A high school senior on a jobs education program. He was quiet, kinda shy, but seemed nice.
She takes him through the process.
They work her from head to toe. Documenting who she is, suggested cause of death and then start collecting evidence.
Her hands are un-bagged. Nails scraped. Her finger prints are taken.
Then, her clothes are processed. First, her panties, bagged and labelled.
The rest of her clothes are then cut off. Skirt, Shirt, Bra, Nylons. Jewlery is removed and bagged.
The intern is excited, more then he should be. He actually is excited about the girl and when the Dr. turns away, he has a feel or two extra.
But, later, she gets a phone call and has to leave the lab.
The intern, in her absence, slips off his gloves and touched and fingers the corpse, quickly reverting to normal when she returns.
Now it is time to wash the body.
From head to toe she is cleaned. The intern takes great pleasure in soaping her up. When the Dr. is not looking, he spends extra time on her pussy.
Then, they roll her over and move to her feet. Both the Dr. and intern are soaping and rubbing the dead girls feet.
When they are done, the start to dry her, then flip her body over and dry the other side.
Measurements are taken of her wounds for documentation.
Then, the Dr. gets another call and has to leave the room. Now, it's his chance to to what he wants.
The body is now in the sitting position on the floor. The intern is shoving his hard cock into her agape mouth. As he fucks her mouth, he listens for the Dr. coming back. But, after a long while of fucking this dead girls mouth, he looses concentration and explodes in her mouth.
The Dr. comes in. He quickly pulls out and runs away.
The Dr. is only sort of shocked. This has happened before. Damn interns.
Back on the table, Dr. Burns swabs the semen from the dead girls mouth and puts it into evidence. She is ready to go home.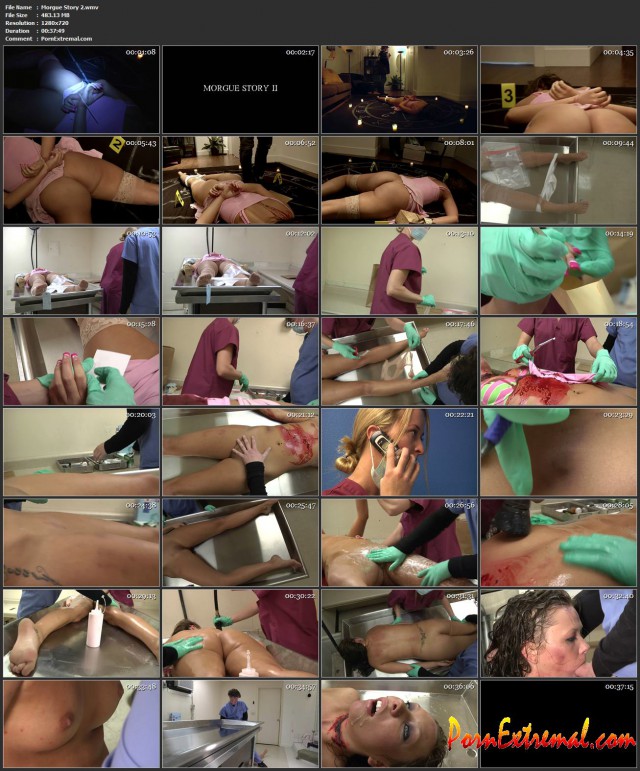 Morgue Story 2.wmv