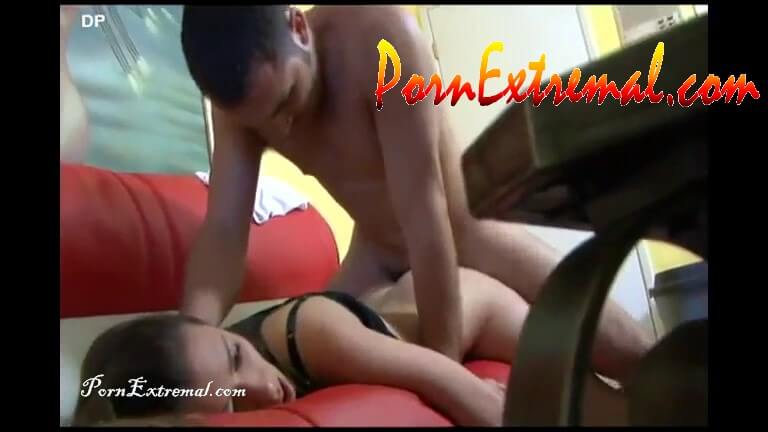 Psycho-Thrillers – Victorias Accidental Death
Categories: Strangle, Hanging, Rape, Death Fetish, Maniac, RolePlay Snuff
Description: Victoria plays a young woman who has just moved into a new apartment complex. She meets Daniel her next door neighbor who appears to be a great guy. He invites her to a church group barbeque and strikes up a good conversation before leaving. Victoria struggles with her large case and almost slides it into her apartment when the back of her foot catches on a piece of floor slab, forcing her to lose her balance and fall backwards. She lands hard and the back of her head crashes into the sharp edge of a granite table, cracking her skull and causing internal bleeding. Victoria's body slides down to the floor where she quickly loses consciousness and begins to spasm and twitch uncontrollably. If she receives immediate medical attention she can be saved but it is at least an hour before her next door neighbor emerges and notices Victoria lying unresponsive in her small apartment.
Her neighbor rushes to her aide and checks her pulse but she doesn't have one. He next reaction is to call 911 but then he changes his mind. He knows it is wrong but he stops himself, pushes her belongings inside and closes the door. Since she is already dead or dying he decides to touch her intimately. Again, he knows this is wrong but his impulses drive him to do so. He places his hands onto her tits then peeks into her top and bra to see her nipples. He then carries her over to a nearby couch and places her face up.
He starts to massage and caress her body and to talk to her as he strips her. He kisses and licks and tastes her pussy, he sucks on her breasts and fucks her mouth before fucking her. Her pussy is tight and unforgiving as it sucks his cock hard. He fucks her just as hard and deep then flips her over and gives it to her from behind. He drives down deep and forceful into her then showers her sexy little ass with his thick gooey seed. Daniel gathers himself and sneaks out Victoria's apartment before someone spots him.
Contains: Set-Up, Dialogue, Leggins, Death by Accidental Fall, Death Twitches, Death Stare, Necrophilia Urination, Neighbor Discovery, Fondling, Undressing, Nudity, Body Carrying, Body Handling, Body Positioning, Body Posing, Necrophilia Oral Sex, Necrophilia Rape, Breast Views, Ass Views, Bare Feet, Foot Views, Vaginal Views, Vaginal Worship, Foot Worship, Necrophilia Blow Job Body Pans, Death Stare