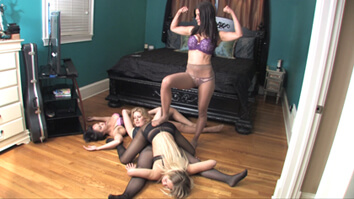 VelvetsFantasies – Leader Hose'n Part 2
Categories: Death Fetish, SoftCore, Gun Fun, Non Nude, Non Sex, Girls Play, Amazon, RolePlay, F/F
Description: Based off a custom script! In this EPIC sequel that continues right where our KO FEST left off, we see the new team leader, Lucy, on the phone with her boss. She arrogantly admits how easy it was to win when the boss delivers a piece of unsatisfying news. Now that Lucy is in charge, she needs to train her team to keep the girls on their A game. Before she even has a moment to exhale, teammates Jacquelyn and Becca arrive facetiously disappointed that Lucy isn't into the idea of training them, so they kick start the training into gear on their own terms. After a double neck chop to Lucy, she's stripped down…only to wake up the girls with a surprise KO that puts Lucy back on top. She rushes to take a quick revive serum that will give her a boost on remaining in control. When the girls discover this, they end up downing the serum too, and a flurry of KOs are administered to Jacquelyn and Becca.
Once you thought the girls on the team couldn't get any better, the exotic Saya shows up late to the training, and as her penalty she receives a KO from Lucy along with a healthy dose of the serum. The training session is now officially ON! What follows is a maelstrom of KOs delivered by four deadly agents…each one out for themselves. Sometimes comical, sometimes brutal, and always sexy!
Fans of multiple quick KOs with beautiful pantyhosed clad women are in for yet another treat with this sequel!
This movie contains double neck chop KO, double headbutt KO, drugged drink KOs, double nerve pinch KO, punch out KOs, 3 girl head bonk KO, neck pinch KOs, knee KOs, frying pan KOs, sleepy spray KOs, taser KOs, kick KOs, injection KOs, black jack KOs, body piles, awkward positions, quick KOs