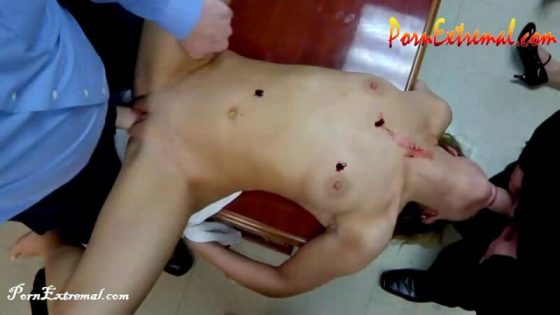 Peachy Keen Films – All For Nothing
Categories: Strangle, Death Fetish, Snuff Play, Shooting, Abuse, Rape, Bagging
Description: Kat Capone was an activist. She started her environmental consulting firm—a non-profit, to find and out the big companies that were causing problems in this world. And, recently, she and her crew found out something really bad. And, she was holding the proof in her hands.
After consulting with her assistant and good friend, she decided she would hide the document until she could consult their lawyer about steps to take for a media blast. This might be dangerous, and she wanted to be cautious to protect her employees. She instructed her assistant not to say anything to the others.
In the break room, the entire office–except for the new intern, were eating lunch. The conversation was light—even the nervous assistant managed to be calm. Suddenly two men in suits entered. They demanded to see Kat.
In the course of persuading them, the assistant, a office girl, and the new intern were killed. The 3 remaining girls lead the men to Kat's office where it soon became a game of who'll blink first.
Unfortunately, the men were armed and all can could do is try to remain strong. This only resulted in the death of another girl. She relented and gave up the document. The then killed another girl and now it was just Kat and her remaining employee who was trying her best to survive.
Kat decided to try something. She managed to seduce the pants of one of the men and sucked him for a while. But, he was soon bored with this and as soon as Kat stood up, he shot her. She fell down across her desk, the other girl sobbing over her–until the men shot her dead as well.
No, just Kat and another girl on the floor were struggling to live.
The men decided to have some fun. Kat is forced to suck cock, then stripped. Then both men are on her–one fucking her pussy, one her mouth. At some point during this, one of the men puts two more holes in Kat–finishing her off. The other girl on the floor is also shot dead.
As one man fucks Kat, the other man explores the girls, then select one, puts her up on the desk and messes with her. Both girls get fucked until they cum and are satisfied.
On their way out, they set a fire to eliminate any evidence of their presence.
Contains: Violence, Nudity, Explicit Sexual Content, Multi-Shooting, Crying, Begging, Pleading, Dragging, BJ, Forced BJ, Necro BJ, Forced Sex, Necro Sex, 2 on 1, Body Piles, Hosiery, Office Attire, Body Views.