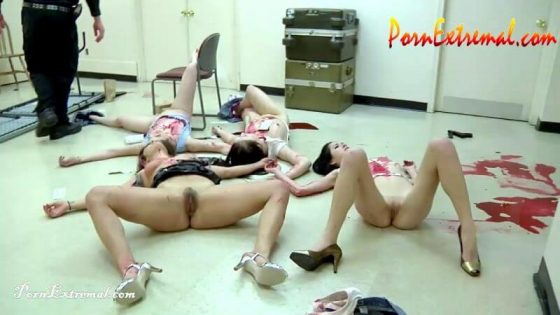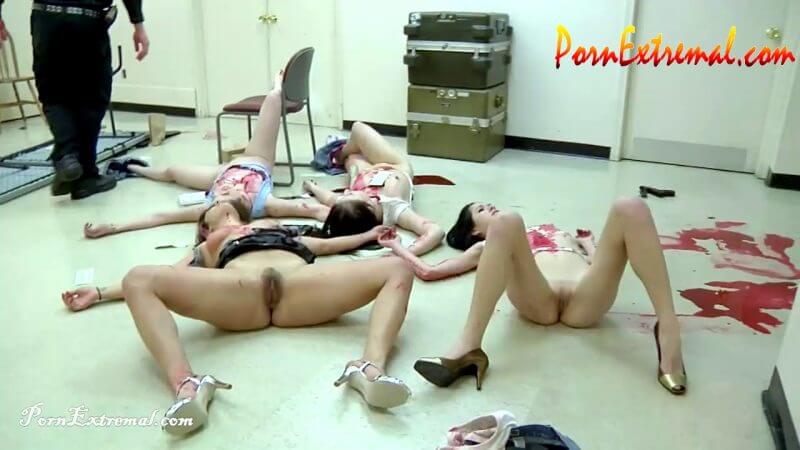 Peachy Keen Films – Blood Money
Categories: Strangle, Death Fetish, Snuff Play, Shooting, Abuse, Rape, Bagging
Description: Synopsis: An all girl gang is getting ready to move a large amount of drugs that will set them up for a life of fun in the sun. But, perceived dissension among the group turns into an all out firefight that leads to all four female thug being wiped out in barrage of bullets and blood. Later, a cop checking on the disturbance finds the dead bitches and has a little fun before giving the all clear to let someone else find the mess later.
If you are looking for a all out female fuel bitch-fest shoot out. THIS IS IT. It's not summer, but this is your PKF shoot 'em up blockbuster. Bullets flying, action, awesome effects and a nice level of blood. Afterwords, some postmortem disheveling and play. Please check it out—I would love to do another. Sequel anyone?
Hit Details:
Aubrey take one in the belly, one in the right breast, lists of painful, agonizing, then is finished off with a shot right in her left breast. Awesome reaction and stare.
Viva gets winged in the left shoulder. Though wounded, this tough bitch manages to get up to her feet, but unfortunately is taken back down with a shot to her belly and chest. Her death is slow.
Jizzabelle take 3 shots, belly and breasts. She seems dead, but manages to get back up to finish off Jessika, then falls, bleeding out and dying.
Jessika take three shots, belly, breast and chest. She struggles with life for a few moments, then dies.
Later a cop comes in and play with, fondles and partially strips the bodies, making sure to expose all the goodies.
Contains: Nudity, Sexual Content, Multi Shooting, Shootout, Blood, Fondling, Stripping, Fingering, Body Views.