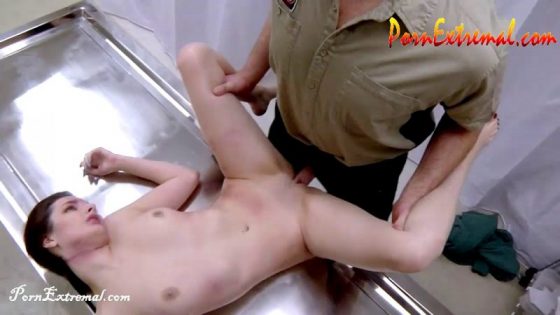 Peachy Keen Films – Dead Secretary 2
Categories: Strangle, Death Fetish, Snuff Play, Shooting, Abuse, Rape, Bagging
Description: CSI's are on the scene of a murder at a local office building. A secretary–dead. The scene secured, the CSI and forensic detective run the scene. They collect evidence and make comments about the body and scenario. At one point, it becomes known the the detectives twin brother works in another department of the building and makes a note to interview him later. They bag her and carry her off.
At the morgue, the detective and morgue tech process the body. Pictures are taken. Clothes are cut off. More evidence is collected. Very thoroughly they go over her from pantyhose clad feet and legs to swabbing her gums. Her hair is combed through. Nails are scraped, fingers are printed. Body is lifted and checked front and back, then rolled and flipped No stone is left unturned. More photos are taken. Once all the evidence is collected, they leave.
Later, the detectives brother arrives. His plan was to gather up the evidence. But first, he had to have her. So, after removing the sheet, he caresses her cool body. Soon, he has his cock in her mouth. He fucks her mouth for a time, then fuck her, until finally cumming all over her belly. He cleans her up, covers her up and leaves.
Fetish Elements: Nudity, Explicit Sexual Content, Crime Scene, Postmortem Exam, Necro BJ, Necro Sex, Body Views.