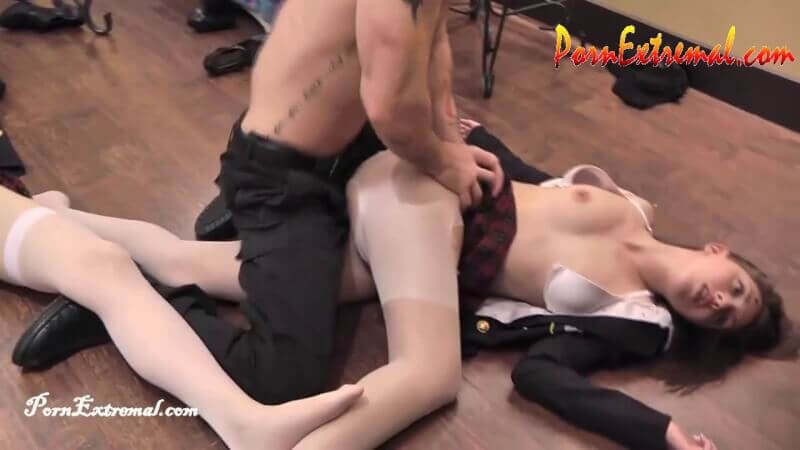 Peachy Keen Films – Double Homicide
Categories: Strangle, Death Fetish, Snuff Play, Shooting, Abuse, Rape, Bagging
Description: Starring Nickey Huntsman, Lily LaBeau, and Miles
Nickey and Lily are college roommates. ItТs an early Wednesday morning and theyТre getting ready for school. Nickey begins her morning routine by putting on a bra and pantyhose, which she perches on the couch to pull over her beautiful legs. Just as soon as she fastens the final buttons on her school uniform, an intruder bursts through the door with a gun pointed directly at her.
She panics and runs to the back corner of the room, holding her hands up and begging the intruder not to shoot. But he doesnТt listen. He pulls the trigger and a bullet hits Nickey square in the forehead and she collapses to the cold hardwood floor.
Alarmed by the loud noise, NickeyТs roommate Lily enters the room to find her friend dead and an intruder now pointing his gun at her. She barely has time to register the situation or panic when the bullet enters her brain. She slumps down to a sitting position, sliding down the wall as she dies.
Now the intruder has two dead sexy girls to play with. He loves the way their feet and legs feel inside the pantyhose, so he rubs his cock all over them, bending their flaccid limbs and fucking the creases. Then he focuses on their lovely feet, holding them together and fucking them. He slides the girls across the floor so theyТre closer together, and uses both of their feet to pleasure himself, caressing them with his face and breathing in their scent.
The intruder is so turned on by all of this he needs to fuck them. LilyТs body has thigh high pantyhose, so he removes her panties and fucks her, then wraps her limp hand around his cock for a post-mortem hand job. As soon as heТs done with that, he proceeds to do the same to Nickey, but then he wants to fuck her too so he rips a hole in her pantyhose, not wanting to remove the pretty things from her body. With a gaping hole in the stockings right at her pussy, the intruder fucks her as he grabs LilyТs feet.
After he cums, the man slides the two girls over to the couch, their uniforms still partially clinging to their bodies. He poses them on the couch together, with their legs open to expose their pink pussies that he just fucked.
Fetish Elements: Explicit Sexual Content, Necro, Pantyhose, Foot Fetish, Foot Jobs, Schoolgirl, Uniforms, Head Shot, Blood, Hand Jobs, Clothing Destruction, Pantyhose Tearing, Body Views, Foot Views.