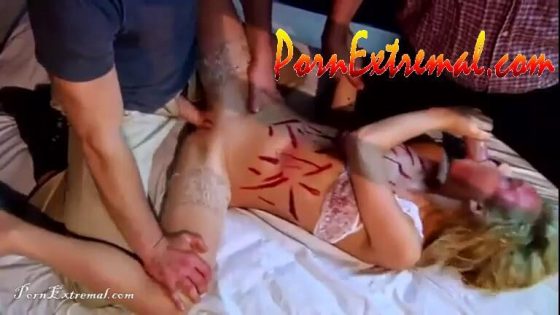 Peachy Keen Films – Evil Father
Categories: Strangle, Death Fetish, Snuff Play, Shooting, Abuse, Rape, Bagging
Description: After Dakota's mother died, her dad started to treat her very poorly, forcing her to work and whipping and beating her.
Dakota is working very hard, pulling a massive box behind her on her hands and knees with her father standing above her, whip and hand, ordering her to work faster. He starts to beat her, punching her in the face and boobs, she tries to get away, but he chases her with a baseball bat and knocks her unconscious.
He feels her body, and pulls out his cock and starts to fuck his daughter until he cums deep inside of her tight pussy.
He would also use her to make money, forcing her to dance in front of the neighbors and beg them to whip and punish her. Her dads best friend, Brock, would often help in her torture, whipping and beating her until she was bloody and bruised, then her dad and Brock would make her suck their cocks until they came all over her.
Dakota's father loved to use the cattle prod on her, making her work harder, or shocking her when she didn't dance sexy enough for the neighbors, making her beg for punishment and whipping her over and over. The neighbors were able to touch her body and feel her tight supple flesh.
Fortunately, there is always a light at the end of the tunnel, for Dakota, her light came on a day when Brock and her dad were overseeing her, making her carry heavy buckets of water from her hands and knees. they decide to whip and beat her, then force her onto a bed and fuck her pussy and mouth until they cum. They tie her to a post and whip her more till she can't take it anymore. They decide that her usefulness has run out.
She begs her dad not to kill her, but he grabs a baseball bat and hits her twice on the head, killing her.
Fetish Elements: (HC) EXPLICIT SEXUAL CONTENT, INCEST RAPE, CLUBBING, VIOLENCE, NUDITY, CATTLE PROD, FORCED BLOWJOB, FORCED DANCING, BEATING, INCEST, STRIPPING, WHIPPING, BLOOD, BODY VIEWS