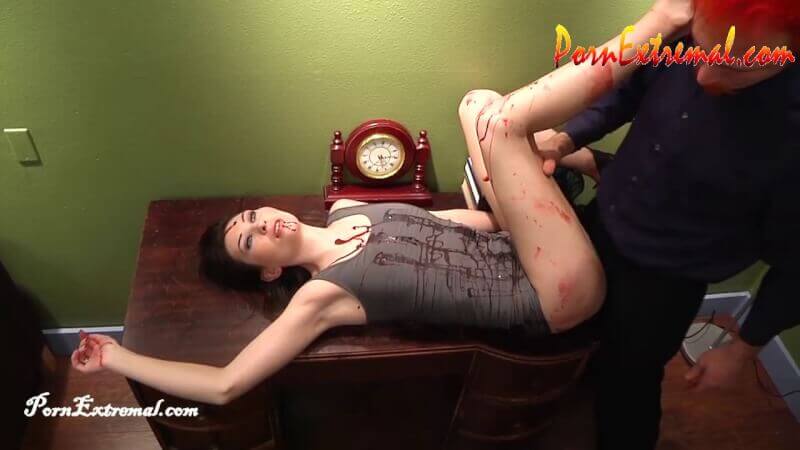 Peachy Keen Films – Fuck Her Corpse 7 – Bullet and Spy
Categories: Strangle, Death Fetish, Snuff Play, Shooting, Abuse, Rape, Bagging
Description: Rose was a spy, but her days are numbered. She had several contracts out on her. She was settling down for a relaxing date with her new boyfriend when she knew she was in trouble. She rushed her boyfriend into the closet to hid, grabbed her uzi's and prepared for war.
The door blew open in a hail of bullets. She put up a good fight, but in the end, was filled full of holes and collapse on the floor in sexy dead position. Her boyfriend witnessed the entire thing from his hiding position.
He emerged in shock. He lovely new girlfriend was dead, sprawled out before him. Her sexy dress, filled with holes. Her high heel shoes still on her sexy feet with french manicured toes.
He went to her, running his hands along her sexy body and legs. He scooped her up and laid her on the desk. Then, he fucked her sexy corpse. After a while he turned her over and fucked her some more until he came on her ass and back.
Later, at the morgue, he went back to visit her. Her skin was a bit lighter now, she was cleaned up, but still had the marks where all the bullets had entered. But, he was still wanting her. He put her shoes back on, and ran his hands along her, sucking her breast and fingering her pussy. Then he slide his cock into her awaiting mouth, drawing it in and out, watching as her cold dead lips moved along his member.
He was very excited and slid her body down to the edge of the table where he slid his cock into her pussy. He fucked his dead spy girlfriend for a long while before finally cumming all over her pussy mound.
He lifted her back up to the right position on the table, then left her for whatever was in store for her corpse next.
Fetish Elements: Violence, Nudity, Explicit Sexual Content, Multi-Shooting, Necro BJ, Necro Fucking x2, Cum Shot, Foot w/Shoe Play, Shoe Fetish, Lifting, Carry, Body Views.