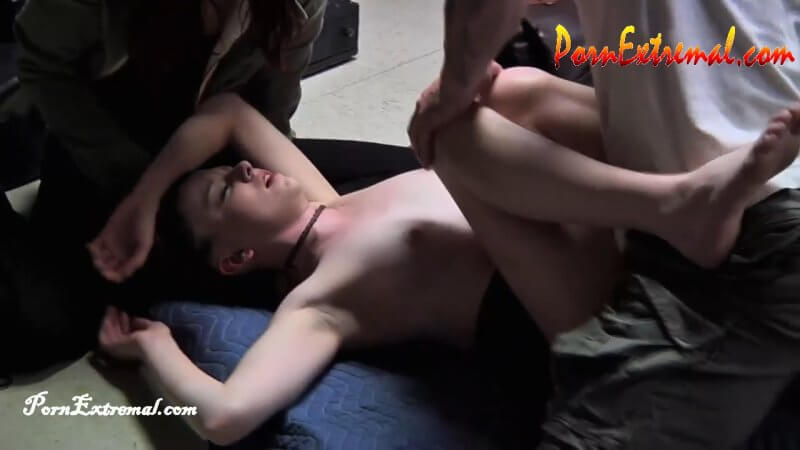 Peachy Keen Films – Lights Out
Categories: Strangle, Death Fetish, Snuff Play, Shooting, Abuse, Rape, Bagging
Description: Starring Emma Evins, Alice Whyte, and Miles
Emma is a college intern, working late one evening at the office when the lights go out. Scared, she grabs her things and goes to find the fuse box in the basement. Just as she begins to open it, a homeless man grabs her from behind and throws her to the ground, knocking her semi-unconscious. He removes her pretty purple panties from beneath her skirt in one fluid motion and starts to rape her.
Meanwhile, the homeless manТs girlfriend, dressed in several layers and a hood, starts removing EmmaТs jewelry and rummaging through her purse. Weak from the unexpected blow to the head and the shock of being raped by a homeless couple, Emma is drowsy and speechless. The homeless girl watches for a while, wide-eyed and quiet as her boyfriend pounds the girl they attacked.
Then she strips off EmmaТs sweater and bra, and proceeds to remove her boots as the man continues to rape her. She tugs at them frantically, grabbing and pulling, struggling to get them off her feet. They are tall and brown, made of fine leather, and zipperless, so she tries to get a good grip on them to tug them off.
Emma, still semi-unconscious, flails and flops around sluggishly as all this is happening. Once the homeless girl has finally gotten the boots off, she sits and admires them as the man continues fucking the girl. After spending some time gazing at the boots, she sits at EmmaТs head, cradling it and stroking her hair. She pulls out a length of rope and tightens it around her throat.
Still weary and delirious, Emma struggles against both of her attackers, as the man continues to rape her and the girl keeps a strong hold on the rope around her throat. She struggles for air, barely clinging to what life she has left. She dies right as the homeless man climaxes.
Having stripped, fucked, and strangled the unsuspecting intern, the homeless couple grab all the stolen loot and leave her body behind, still and empty.
Fetish Elements: Explicit Sexual Content, Strangle, Groat Strangle, Rape, Boot Pulling/Tugging, Unconscious, Attack, Rope, Mugging.