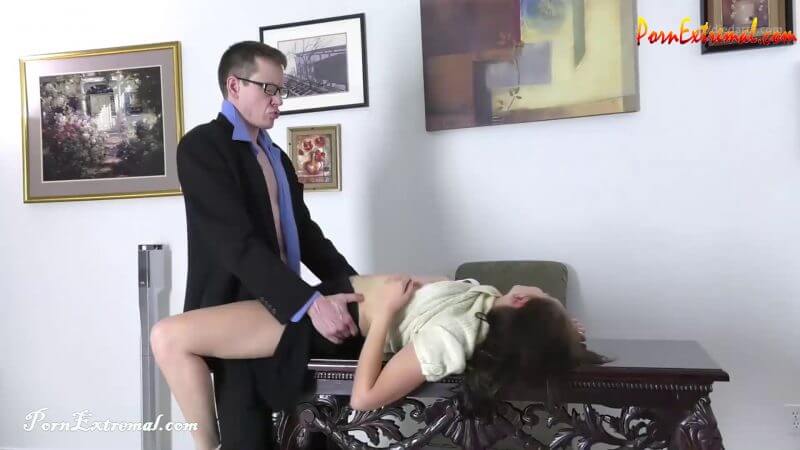 Peachy Keen Films – Lobbying Power
Categories: Strangle, Death Fetish, Snuff Play, Shooting, Abuse, Rape, Bagging
Description: Nickey was a true believer in the Red, White and Blue. From debate club and student government to a political science major at Columbia, she was on the fast track to the inner workings of Washington, D.C. She was thrilled to get her internship with one of the most prominent lobbyists on the Hill; his connections were legendary, his reputation built on bills passed, or tabled, depending on who he was working for.
It helped that he was handsome, as well, though the aura of power he exuded had soaked many a panty on its own. Even when Nickey was exposed to the more unsavory side of D.C., the backroom deals and exchanges of favors, she accepted them as a necessary evil and was always impressed with the way her boss would navigate the twisted halls of congress. She was completely devoted to him, willing to do anything, including getting her knees dirty under his desk, sucking his huge cock, while he continued his business on the phone.
He was not above using his massive prick to seal some deals, so it was that Nickey found herself under his desk, acting as his personal fluffer, polishing his erection for an meeting with some nasty congresswoman. Thankful for Nickey's help, he still dismisses her coldly, as the time of the congresswoman's arrival nears. Nickey leaves, dejected, to allow him privacy to make his illicit deals.
She returns to find him passed out, exhausted, on the couch, his expensive suit in disarray. She begins to straighten his tie and button his shirt, but seeing him so peaceful, so helpless, she begins to get naughty ideas in her head. Pulling his cock out, she sucks and licks until it is rock-hard and standing at attention. Slipping her leggings and panties off, she mounts his rigid pole, gasping as its thickness stretches her out, as she struggles to fit it inside her. It's not long before the lobbyist awakens to his sexy intern bouncing on his dick.
Furious that she would take such liberties with him, he lashes out. Holding her by the throat, he pins her to the couch and fucks her savagely, occasionally punching her in the face to further make his point. Throwing her on the floor, he grabs her hips and hammers into her from behind. His rage unabated, he grabs a nearby electrical cord and wraps it around her neck, pulling tight, while his cock continues to batter her womb. Nickey frantically thrashes about, fearful of her boss's assault and her lack of oxygen. His anger gives him an inhuman strength, however, and she is unable to escape. Her mouth gapes open, eyes bulge, face turning red, but she draws not a single breath. After a brutal and violent fray, Nickey lies dead on the floor.
But her boss isn't done with her yet. Excited from his brutish act, he begins to take out her firm tits, groping the fleshy mounds. Lifting her off the floor, he fucks her dead body on the desktop, on the couch, shoving his cock into her defenseless mouth and cunt. He continues to savage her corpse, his fat, meaty pole ravaging her young throat, plundering her tight pussy, tossing her body around his office like a dog with a chew toy. At last, his orgasm overtakes him and he aims his dick at the pretty, but dead, Nickey, thick globs of cum covering her. Tucking himself back in his pants, he gets on the phone. He knows people that can make poor Nickey disappear. After all, he's an important man with powerful people depending on him. One little dead intern isn't going to affect him.
Fetish Elements: Explicit Sexual Content, BJ, Glasses, Sex, Peril, Violence, Punching, Wrestling, Sexual Assault, Garrote Strangling, Groping, Disheveled, Lifting, Carrying, Limp Fetish, Necro Sex, Necro Face Fuck, Cumshot, Body Views, Foot Views..