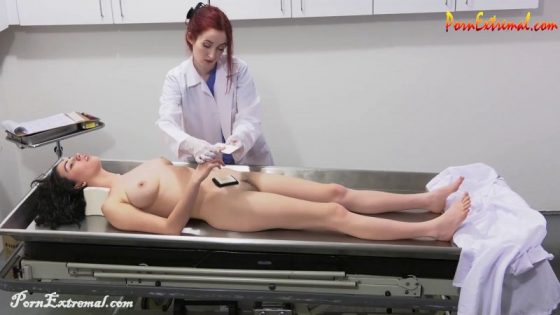 Peachy Keen Films – Mary Janes Final Day
Categories: Strangle, Death Fetish, Snuff Play, Shooting, Abuse, Rape, Bagging
Description: Starring Mary Jane & Penny Lay
With her tight, slender physique, striking red hair and pretty face, most would call Dr. Penny Lay beautiful. While that may be the case, she is still insecure about her looks sometimes. So she feels a sharp pang of envy when she sees gorgeous dead girl on the examination table as her first case of the evening. She feels dumb for being jealous of a corpse, but even in death, the woman was breathtaking, surely evoking the desire of every man who met her in life.
It gets worse when she starts to take off the young woman's clothes, revealing her smooth, dusky skin and seductive body. Penny can't find a single flaw and she explores every inch of limp and lifeless hottie. "Look at these marvelous tits!" she thinks, squeezing and groping them during the breast exam, "I'll bet she let's the boys play with these all night." Her suspicions of the girl's slutty nature are refuted, however, when she tries to take the model's vaginal temperature, and is barely able to shove the thermometer into her snug hole. "Wow, this chick's pussy is tight!" she muses.
It's when Dr. Lay rolls the girl over that her insecurities jump into overdrive. "Damn, that is one bangin' booty on this bitch!" is the thought that keeps playing over and over in her head. Round and firm, Penny caresses and pats it with her gloved hand, amazed by its firmness, its perfect hemispherical shape. Though she is competent and practiced throughout the course of the video, Penny feels slightly inadequate after getting to know Mary Jane's lush body in such exquisite detail. Or maybe she's uncomfortable with how turned on she is, after examining the young girl's sexy body and touching her in the most intimate places.
Fetish Elements: (SC) Morgue, Body Fondling, Body Flopping, Relieving Rigor, Measuring, Morgue Examination, Fingerprints, Fingernail Scraping, Pussy Swabbing, Mouth Swabbing, Breast Exam, Tongue Examination, Foot Views, Body Views, Limp Fetish, Medical Fetish, CSI, Body Inspection, Medical Clinic, Stripping, Role Play.