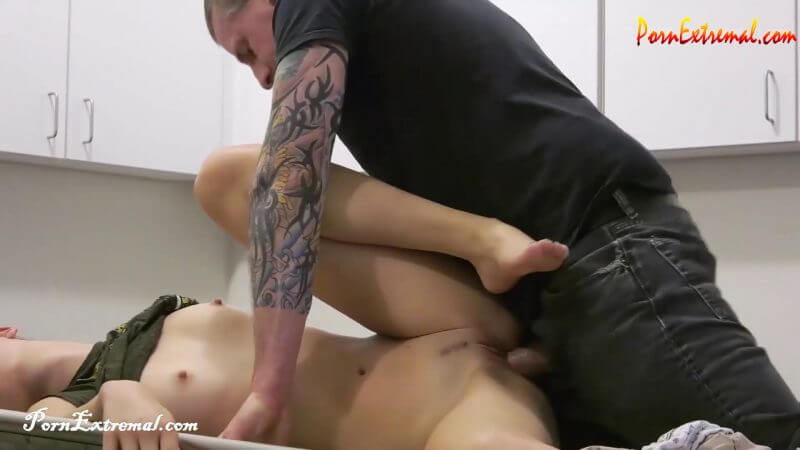 Peachy Keen Films – Misconduct
Categories: Strangle, Death Fetish, Snuff Play, Shooting, Abuse, Rape, Bagging
Description: Max has been working night shift at the morgue for as long as he can remember. Most nights, it's a shift filled with loneliness and monotony, but every now and then, something happens to make it quite memorable. It seems that tonight, someone has left a body out and unattended. Curiosity getting the better of him, Max lifts the thin sheet that covers the abandoned corpse and smiles at what he sees. It's a young, pretty girl, freshly expired, with dainty feet, toes painted blue. He can already feel himself growing hard as he begins to fondle her firm tits and caresses her smooth legs and toned abdomen.
Pulling out his stiff cock, he molds her little hand around it and strokes himself with it. Her mouth is the first orifice to be violated, as he grabs her head and holds it steady, while cramming his cock into her gob. Her pretty feet catch his eye again and he moves to the foot of the table. Removing her shoes, he squeezes his dick between her soft soles and enjoys a footjob.
Rolling and shifting her petite frame on the hard table, Max begins peeling some of her clothes off. Bringing her butt to the edge of the table, he spreads her legs and pushes himself inside her tight cunt. Fucking her with abandon, he starts to get off from using this poor girl's limp and lifeless body as his own personal fuck toy. The thought sends him over the edge and he grunts as his balls contract, his pole throbbing as it dumps a copious load of goo while deep inside her tender pussy. His lust sated, he throws the sheet back over the girl's defiled corpse, tits out and shorts still down around her ankles, her most intimate parts still exposed, and goes about the rest of his evening.
Fetish Elements: Explicit Sexual Content, Role Play, Morgue, Fondling, Stripping, Disheveled, Partial Nudity, Limp Fetish, Medical Fetish, Necro Handjob, Necro Face Fuck, Necro Footjob, Necro Sex, Body Play, Body Views, Foot Views.