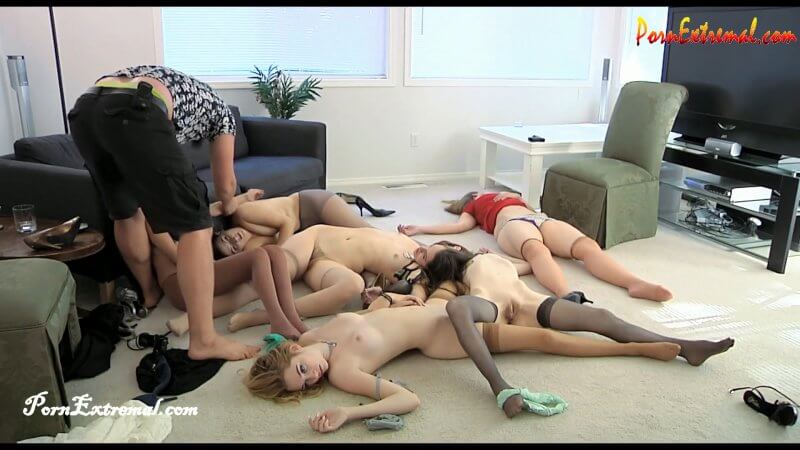 Peachy Keen Films – Party Crasher
Categories: Strangle, Death Fetish, Snuff Play, Shooting, Abuse, Rape, Bagging
Description: Maizee is hosting an elaborate party, with all her high society, female friends, but, unfortunately for her, her husband has angered some very powerful and unscrupulous people. The girls are all having fun, dressed to impress and sipping on champaign, when a gun wielding hitman crashes the party. Talk comes to a standstill as the thug shoves a pistol in MaizeeТs face threatening her with deadly retribution.
One by one, she watches helplessly, as each of her friends are killed in turn. He toys with them for a bit, enjoying their fear, as they tearfully beg for their lives. None of their pleas are listened to, as he silences each of them with a retort of gunfire. Finally, it is MaizeeТs turn. Placing the barrel of the gun nearly against her skull, he fires, her head snapping back from the force and her body falling like a marionette whose strings have been cut.
The hitman wants to send a special message, though, so he takes the time to leisurely strip their lovely bodies of their fine clothes. He pays particular attention to their pretty nylon-clad feet, nuzzling their smoothness against his cheek and crotch. Exposing their ample breasts, their pale, soft bellies, he lets his hands wander over their gorgeous corpses. Dragging and carrying their limp, dead forms, he piles them on top of each other, leaving them exposed and in the most undignified of positions. Escaping the scene of the crime, they remain motionless, bodies cooling and dead eyes staring into nothing.
Fetish Elements:аSexual Content, Partial Nudity, Disheveled, Stripping, Lingerie, Nylons, Multi-Shooting, Terror, Pleading, Pantyhose, High Heels, Carrying, Flopping, Foot Fetish, Body Pile, Necro Fondling, Posing, Body Play, Body Views, Nylon-Clad Foot Views.