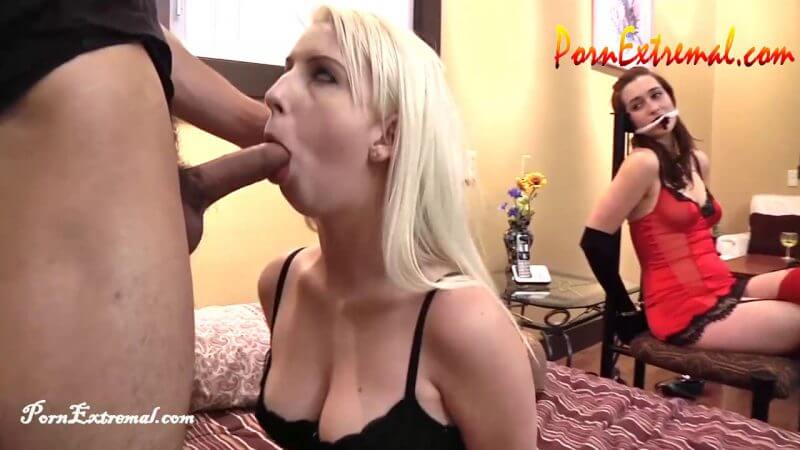 Peachy Keen Films – Special Session
Categories: Strangle, Death Fetish, Snuff Play, Shooting, Abuse, Rape, Bagging
Description: Two friends really like each other, but they are shy about expressing their true feelings in the way they want to. Holding hands, some kissing, is just not enough, but they are afraid to go any farther. So, they hire a hypnotist to help them "loosen up".
He arrives they after a brief explanation, he hypnotizes both girls. He has them each undress and put on sexy lingerie. Then, they crawl on the bed and he watched them as they explore each other under the control of hypnosis.
Darcie sucks on the strap-on that Alice is wearing, then she fucks her. After a while they kiss some more, then switch positions, with Darcie fucking Alice.
The man decides to join in the fun. He gets both Darcie and Alice to suck his cock. Then he cuffs Alice to a chair and she is made to watch as he fucks her friend, Darcie. Both cannot control themselves and simply follow his commands. Finally, he had Darcie suck him off until he cums all over her chest.
Later, in another location, he had Alice in a chair and Darcie noosed.
They are both still cloudy from the hypnosis, but as soon as the man begins his evangelical rant about their sins, Darcie begins to come out of the trance. But, it is too late. The man has bound and bagged Alice and she watches her friend suffocate and die.
In horror, and terrified, Darcie tried to get the man to let her go, but instead, he fingers her until she looses balance, kicking her own stool away and dropping with the noose tightly around her neck.
She slowly strangles while hanging, her petit feet kicking for something to stand on, but there is only air. Her body rocks and sways until she is still. Dead.
He looks over both victims–a job well done–sinners removed, and leaves.
Fetish Elements: Violence, Nudity, Explicit Sexual Content, Lesbian, Strap-On, Stripping, Lingerie, Hypnosis, BJ, Sex, Bagging, Hanging, Body Views, Foot Views.