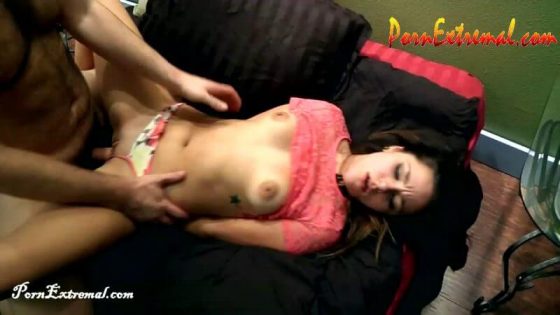 Peachy Keen Films – Sweet Obsession
Categories: Strangle, Death Fetish, Snuff Play, Shooting, Abuse, Rape, Bagging
Description: Directed By John Marshall
Unknown to this girl, a man is waiting outside. He will change her life. But right now, she is getting ready for her date. She stands in front of a mirror, putting on pantyhose, slowly dressing, putting on shoes–making sure everything is just right.
A knock on the door, she answers. It is a delivery person. When she goes to get a pen to sign for the package, he enters her home and confronts her with a knife upon her return. She is backed up against the way. He is creepy. Obsessed with her feet. After a few moments of this, he takes her away.
She is bound and gagged in his home—well, it is his mothers home, evident by the framed photo—and he has a special obsession with her–and now this girl. (think Psycho)
After watching her for a moment, he interacts with her. First, he undoes the rope around her ankles, then sets her up and he forces her to suck his cock. Then, he leans her back against him and rubs her all over. She squirms uncomfortably.
When he gets frustrated with her, he plunges the knife into her back to calm her down. She is suffering, in pain as he rips her pantyhose and panties and then starts to fuck her.
Eventually, he moves her to the bed, raping her as she squirms in agony. Finally, he plunges the knife over and over into her soft belly. Blood trickles out her mouth as she slowly dies.
Now still and lifeless, he keeps fucking her, eventually using her feet on his cock until he cums all over her feet and toes.
He start to drag her bloody body off. No one can every replace his sweet mother, but he will keep looking—he will keep obsessing.
Contains: Violence, Nudity, Explicit Sexual Content, Dressing, Pantyhose, Kidnapping, Knife Play, Foot Play, Toe and Foot Licking, Foot Job, Rape, Forced Blowjob, Multiple Stabbing, Necro Sex.