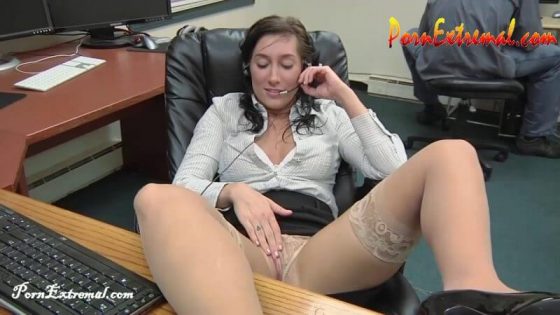 Peachy Keen Films – Teasing Bitch Boss
Categories: Strangle, Death Fetish, Snuff Play, Shooting, Abuse, Rape, Bagging
Description: Bitchy, bossy Scarlet is in a foul mood, but there's always one thing that cheers her up. Belittling and dominating everyone else around her. She's a right cunt, that one, but the combination of her sexy body, seductive personality and ruthless business sense have made her a powerful figure in the company. Which means what she says, goes. If that happens to be a sorry wage-slave depending on his job, then that sad sack is completely fucked.
Max has only worked for the harpy for a few weeks, but he is already fed up with her demeaning treatment. He's determined to quit, but until he finds another job, he grimly accepts her demands and tirades. Today starts no differently, Scarlet yelling at him as soon as she walks in. Then, a sly look crosses her face and she tells Max to come over. Knowing she has him by the short hairs, she makes him get on all fours to act as her foot rest, before commanding him to orally service her. After she has cum, she begins to fondle his crotch, enticing him with her legendary blowjob skills. Just as he is getting hard, though, she rudely tells him to get back to work, spinning away from him, an cruel smirk on her face.
Anger slowly stewing in him, he sits back at his desk, struggling to maintain his calm. Fuming throughout the day, he reaches a breaking point, when she starts to masturbate while on the phone with her lover. Removing his tie, Max creeps up behind her and wraps it around her throat. Pulling tight, Scarlet is forced backwards, silky fabric squeezing her neck like a noose. Her eyes bulge in shock, her mouth open wide, desperate for air, desperate to scream, but the designer piece of neck wear strangles them both. Scarlet's dress rides up, exposing her panties and the tops of her thigh-high stockings, one of her high heels flying off as she kicks and struggles to be free.
After a brutal and agonizing death, the woman lies on the floor of her office, eyes still open, clothes disheveled. Still frustrated from her prior teasing, Max lifts her limp body onto her desk and defiles it again and again with his rock-hard pole. First, spreading her stocking-clad legs to punish her dead cunt, then moving to the other side of the desk to skull-fuck her slack mouth. Still warm and wet, her oral cavity coaxes the gonad gravy from his blue balls. He erupts, filing her mouth with his hot cum, some overflowing to her lips and cheek. That's how he leaves her, exposed and ravaged, tits out and face sticky with man goo, draped across her desk for anyone to see. Now, let's go look at those "help wanted" ads.
Fetish Elements: Explicit Sexual Content, Big Tits, FemDom, High Heels, Thigh-High Stockings, Office Fantasy, Pussy Licking, Tease, Masturbation, Garrote Strangling, Disheveled, Lifting, Necro Sex, Necro Face Fuck, Cumshot, Body Play, Body Views, Stocking-Clad Foot Views.