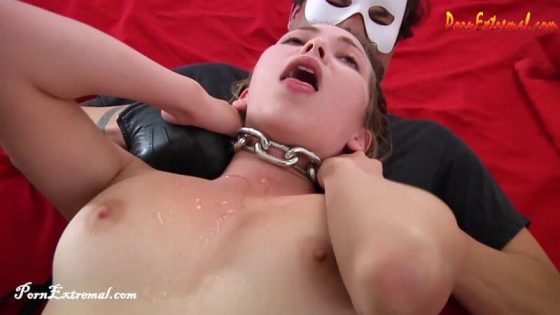 Peachy Keen Films – The Chain Choker
Categories: Strangle, Death Fetish, Snuff Play, Shooting, Abuse, Rape, Bagging
Description: Starring Angel Smalls
Angel is relaxing around her apartment. There is a party tonight and she is excited to be with friends and maybe meet a guy she likes. A news report, regarding a killer on then loose, upsets her momentarily, but she feel safe inside her locked apartment. Getting ready to go out, she lays out her sexy outfit and begins to undress for her shower. For just a moment, she thinks she hears something and looks around, but finding nothing, she returns to her thoughts of the evening.
She is already excited and begins to fondle herself as the warm water splashes over her. Allowing her hands to roam, she touches herself, grabbing her firm breasts, sliding her hand down her shapely ass and rubbing her sensitive pussy. Soon, she has worked herself up to the edge, having a powerful orgasm, while the hot water blankets her lithe body. Suddenly, out of nowhere, he appears, The Chain Choker, and he attacks poor Angel in the shower.
Wrapping the chain tightly around her neck, he strangles her, dragging her to the bed. She thrashes and struggles, but to no avail. He is too powerful for her to resist and the life is slowly choked from her lungs. Now that she still and growing cold, the Chain Choker has time for a little fun. Pulling his cock out, he first shoves it into her tight pussy and fucks her. Wishing a bit of variety, he then pushes his shaft down her defenseless throat, pumping until he releases his cum into her young mouth. Always one to clean up after himself when he is done playing, he carries her to the bathroom, leaving her lying in the tub.
Fetish Elements: Explicit Sexual Content, Fondling, Nudity, Teenage/Young, Stripping, Strangling, Body Play, Body views, Foot Views.