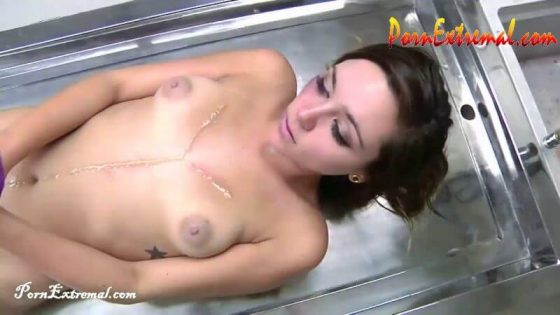 Peachy Keen Films – Zoey Foxx In The Morgue
Categories: Strangle, Death Fetish, Snuff Play, Shooting, Abuse, Rape, Bagging
Description: Starring Zoey Foxx and Breezy
Directed By JohnM
Zoey Foxx has been killed. Her body is in the morgue, laying on the table still in the school girl uniform she was found in.
The morgue tech starts by taking pictures, then relieves the rigor in the arms and legs and neck, then she starts to take off her clothes.
The morgue tech fills out a toe tag and ties it to her toe, then starts taking finger prints. She scrapes her fingernails, then examines the eyes and spreads her legs and swabs her pussy. She examines her mouth and tongue.
She flips the body over on it's side and examines it, then flips it over onto it's stomach to examine the backside and takes the anal temperature, then sets the body up for the autopsy.
After the autopsy, the morgue tech wraps up her wrists and ankles and covers it with a sheet while she sets up the funeral prep room.
In the funeral prep room, she starts to dress her, then applies make up, preparing her for the service.
Fetish Elements: (SC) Postmortem Exam, Temperature Taking, Body Play, Morgue, Body Moving, Relieving Rigor, Flopping, Swabbing, Fingernail Scraping, Dressing, Funeral Prep, Body Views.