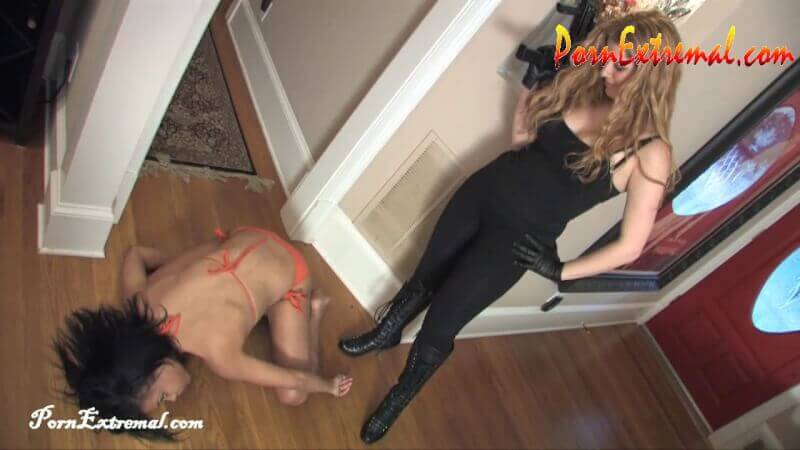 VelvetsFantasies – Riddled By Velvets
Categories: Death Fetish, SoftCore, Gun Fun, Non Nude, Non Sex, Girls Play, Amazon, RolePlay, F/F
Description: Starring Jacquelyn Velvets and Monica Jade
The lovely Agent Velvets has a new assignment…one that involves a lair home to one of her least favorite rivals: the deadly and beautiful Monica Jade! Velvets happily makes her way to the secret location and quickly takes care of Monica outside, riddling her with machine gun fire until she falls, eyes staring into nothingness as Velvets thinks this kill was a piece of cake. She makes her way into the house, and starts planning what of Monica's possessions she will steal, but suddenly we see THREE Monica Clones move in to surround her with their guns drawn. Velvets is just too quick for them. She spins, firing her machine gun and impressively nailing ALL THREE clones before they can get a shot off!! They drop and she sprays them as they lay dead on the ground, making sure they won't be coming back.
The rest is carnage, as Velvets dispatches every clone in the house with her trusted weapon…only to find the ORIGINAL Monica Jade waiting for her in the bedroom! The real Agent Jade relieves Jacquelyn of her gun, but realizes with a look of horror that the trigger has been encoded to only fire when Miss Velvets wields the weapon. Miss Velvets yanks the gun away and empties it into Monica Jade's writhing body…securing her mission's success AND a possible bonus from the boss!
This movie contains multiple machine gun deaths, over kill machine gun shots, pulse checks, body riddling, draggings, pleading, death stares
There are NO blood scenes or special effects just a sexy girl dying over and over!