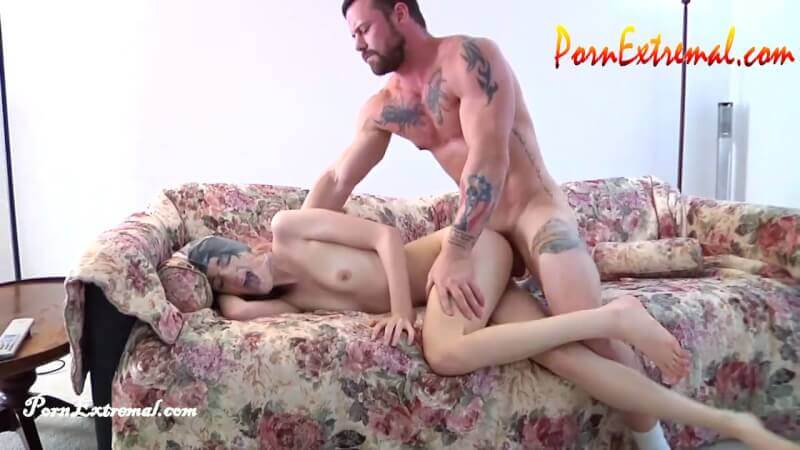 Peachy Keen Films – Banging And Bagging
Categories: Strangle, Death Fetish, Snuff Play, Shooting, Abuse, Rape, Bagging
Description: The sun rises in the early morning as Ivy and Miles stir in their bed. Ivy is feeling horny and wants Miles to fuck her right away, but he's too tired, he need some rest. She climbs out of bed and strips, heading to a dresser for a change of clothes. She slips into a tiny leather thong and a pair of vinyl stockings.
Out of another drawer she retrieves a slim vinyl dress, a single rectangular piece ties through loopholes in the front. With a pair of black high heels on she heads downstairs and find Miles. She kisses him, asking him if he wants his dick sucked. How can he say no? She pushes him into the living room and unzips his jeans, taking his cock deep, teasing the head and drooling all over it.
Before she can get into it, he cums, much to her disappointment. He swears he just needs some time to recover before they can go again. She is hungry for sex and can't wait until his dick is hard. She wants him to finger her in the meantime, to help both of them get in the mood faster. He strips her down and throws her on the couch, fingering her already dripping wet pussy. He rubs her clit as he thrusts two fingers deep inside her. He pauses. Has she ever heard of auto-erotic asphyxiation? She has, a little.
Miles retreats to the kitchen, coming back with a plastic bag that slides over Ivy's head. He continues to finger her to a powerful orgasm as she runs out of air in the tiny bag, the sensation ten times what it normally is for her.
This is making Miles rock hard again. He strips and thrusts his cock deep inside her, fucking her as the plastic bag stays on her head. He grabs the bag and squeezes it tighter, as he cannot help himself, fucking her hard and fast. All of sudden she stops, she makes no sound. He pulls out of her and checks on her. He's killed her.
Working quickly he prepares a clear plastic bag to wrap her body in, he must dispose of the evidence. Secure in the plastic, he begins to finger her pussy through the clear material. He cannot help himself as he tears a small hole, inserting his cock through and into her pussy. He keeps fucking her still warm pussy.
But all of a sudden, Ivy comes to life! She was not dead, and is a little angry that Miles didn't call the cops. But something about all of this is really turning her on and she begs him to keep fucking her, to smother her with the plastic. He obliges, pounding her deep on the floor as the plastic envelopes her, her oxygen supply dwindling.
She goes limp without warning. Has she passed out again? From the looks of it, she is truly dead. He wraps her body and drags her out of the room, he must get rid of the evidence, no matter how hot it made him!
Fetish Elements: Explicit Sexual Content, Lingerie, Stripping, Vinyl, Kissing, Blow Job, Cumming, Fingering, Asphyxia, Orgasm, Plastic Bag, Fucking, Doggystyle, Limp, Pass Out, Bagging, Necro