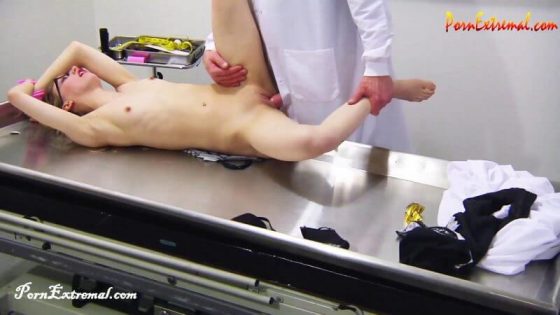 Peachy Keen Films – Emmas Frightful Fate
Categories: Strangle, Death Fetish, Snuff Play, Shooting, Abuse, Rape, Bagging
Description: Starring Emma Scarlett
Poor Emma's body was found dead, in a ditch, and it has made its way to the morgue, to be examined by Dr. CoXXX. He is always saddened by the violence he sees, the young lives cut tragically short, but that doesn't mean one shouldn't have a little fun on the job. Getting his equipment ready, he is anxious to get his hands on her tight, though slightly stiff, body. Taking the sheet off her, he removes her shoes and begins his dictation, clinically describing her, and the possible method of her demise. Bending her over, moving her limbs, he strips her bare, leaving only her glasses on, the rest of her young body exposed to the cool air of the morgue.
The doctor probes her mouth, pulling her tongue with a pair of metal tongs. The same tongs her later uses to grasp and tug on her tender labia. She is fingerprinted, measured with a tape measure and scrutinized in detail. A greenish ichor around her genital region is discovered and Dr. CoXXX realizes the poor woman's cause of death.
Monsters!
Monsters are a fact of life and, in Dr. CoXXX's county, a leading perpetrator of sexual assault. Looking down at Emma's nearly flawless naked body, imagining the depraved acts some inhuman monster would have forced her to do, turning her into a helpless cock sheath, huge monster dong splitting her tight cunt open, the doctor began to feel himself grow hard. Pulling out his stiff shaft, he decided that he needed to use Emma's pretty corpse for some relief. Binding Emma's hands together with medical tape, he puts some lube in her palms and uses them to give himself a handjob. As good as her tiny hands feel around his cock, he needs more, so he takes some of the lube and fingers her shaved pussy, until it's wet and slick. Slipping on a condom, Dr. CoXXX drags her to the edge of the table and spreads her legs, pushing his cock inside her slippery hole.
Holding on to her petite body, the good doctor thrusts again and again into her tight cunt, making her his own fuck toy. The doctor defiles her abused corpse, his huge cock plunging deeper and deeper into her sweet pussy, until it's snug grip milks the cum from the doctor's balls. Pulling his cock out and the condom off, he spews thick, hot ropes of goo that spatter heavily on her toned belly. He throws the used prophylactic on her chest and walks away, leaving her naked, freshly-fucked and slime coated body sprawled on the metal table in the morgue. First raped by a monster, only to be desecrated by the medical examiner, it's a good thing poor Emma wasn't alive to see this.
Fetish Elements: (SC) Morgue, Body Fondling, Body Flopping, Morgue Examination, Fingerprints, Mouth Probing, Breast Exam, Tongue Examination, Foot Views, Body Views, Rigor Mortis, Limb Play, Medical Fetish, CSI, Body Inspection, Medical Clinic, Nudity, Handjob, Sex, Cum Shot.