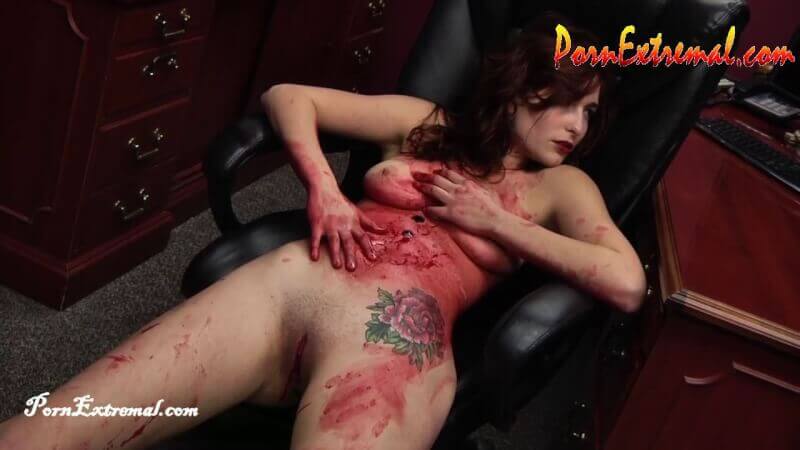 Peachy Keen Films – Killing Alice Whyte
Categories: Strangle, Death Fetish, Snuff Play, Shooting, Abuse, Rape, Bagging
Description: Starring Alice Whyte
She is in his office. She has all the power and sits alone. Her boss is at home with this wife and she smiles, thinking of him. She has him under control and there is nothing that can be done. She plays with herself—thinking about it make her wet.
A man has entered. She is unaware. He watched her for a moment, then levels the gun at the back of her chair.
PFTTT….PFTTT
The silenced round cut cleanly through the fabric and wood and holes burst out of her chest, forever changing her appearance. She is in pain. Two gaping holes, through and through. He turns her around, forced her to stop covering herself in fear and pain and shoots her two more time.
She falls off the chair onto the floor, withering in agony. The man never talks—but clearly has a goal. Make her suffer. He pushes her over, then shoots her again in the belly. She curls into a ball.
He lifts her back on the chair, then takes her there. When he is done fucking her, he levels the gun at her pussy. She cannot believe it. All this, for what—an affair with the boss. Her power trip is ending.
PFTTT
The bullet travels clear into her pussy, tearing her insides. Blood glistens on her slit. She is dead.
Fetish Elements: Violence, Nudity, Sexual Content, Multi-Shots, Suffering, Begging, Crying, Pussy Shot, Clothes Stripping, Rape, Body Views.