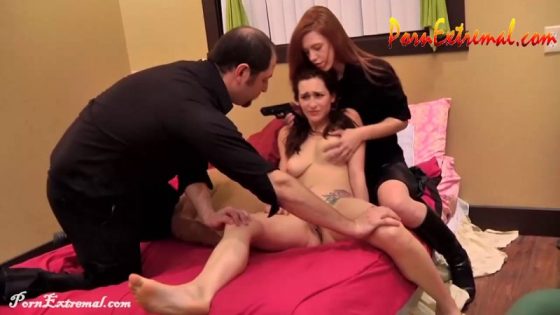 Peachy Keen Films – Alice To The Rescue
Categories: Strangle, Death Fetish, Snuff Play, Shooting, Abuse, Rape, Bagging
Description: Starring Pepper Kester, Alice Whyte, Viva, Jasmine, Mercy, Rock.
Directed by Alex Dorian
Pepper and Rock have Viva, Jasmine, and Mercy naked and bound. In an attempt to save them, Alice begins to untie them, but she is captured and stripped by Pepper and Rock as the three other girls look on in fear. Using the pantyhose that he peeled off of Alice, Rock strangles one of the girls. Then Pepper takes over, strangling another girl with AliceТs pantyhose. Rock strangles the third girl in the same manner.
Their bodies lay strewn across the floor as Rock takes Alice to the bed and fucks her as she tries to fight him and claw at him, wishing he would just stop. But he holds her down, grabbing her arms and face. Pepper comes over with the pantyhose and starts to strangle Alice while he continues to fuck her, but she changes her mind and pulls out a plastic bag which she forces over AliceТs terrified face. Alice struggles, grabbing at the bag, her feet kicking and her body convulsing. She finally takes her last breath beneath the plastic bag.
Pepper and Rock pile all the bodies up on the floor, and then individually put each body into a giant plastic bag, where they remain. Rock unexpectedly turns on Pepper, capturing her and strangling her with his hands, her eyes wide and her mouth agape until she dies. He places her body in a bag and leaves all 5 bodies bagged on the floor.
Fetish Elements: Explicit Sexual Content, Capture, Bondage, Forced Fucking, Strangling (X4), Groat Strangling, Pantyhose Strangling, Hand Strangling, Bagging, Flopping, Guns, Body Rolling, Blow Jobs, Forced Blow Jobs, Rape, Female Masturbation, Pantyhose Smelling, Body Bagging, Foot Views, Dragging, Body Piles, Boot Removal, Foot Views.