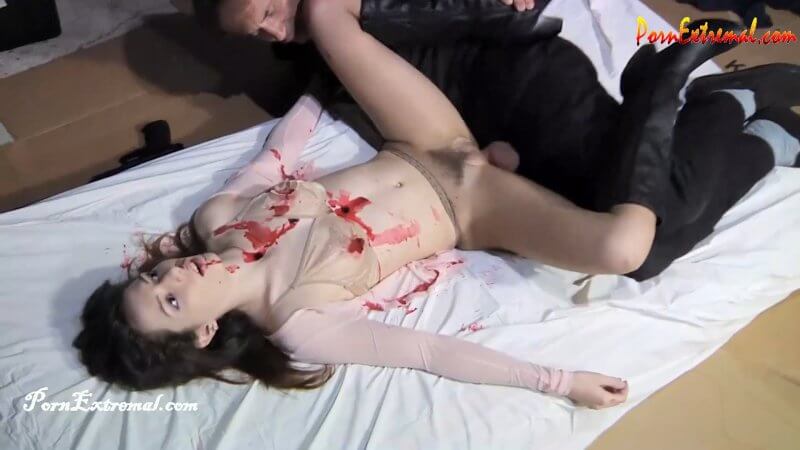 Peachy Keen Films – Sextermination
Categories: Strangle, Death Fetish, Snuff Play, Shooting, Abuse, Rape, Bagging
Description: Ember is enjoying a little sexy time on her own, bringing herself to the last orgasm she will ever know. Abruptly, an attacker lunges at her, choking her into unconsciousness. When she awakens, she is handcuffed on a dirty mattress, her attacker masturbating himself as he watches her. Her thoughts of escape fall away when he points a big, black gun at her, his lethal intentions clear. She pleads and begs for her life and he tells her that if she can suck his cock good enough, he may let her go.
Frightened and desperate, she swallows and sucks like a whore, doing anything to live another day. He was merely toying with her, however, and he shoots her in the back. She falls and writhes in pain, but he is far from done. He shots her again, in the gut and in the chest, watching as she twitches and bleeds out far from any friends or comfort. Her bladder releases, the acrid smell of urine mixing with the miasma of blood and fear that christen her departure to the afterlife.
Tired of wanking his own dick, Ember's murderer shoves himself inside of her, enjoying the feel of her still warm pussy and her limp body. Defiling her corpse on the filthy, gore covered bedding, his cock invades her most private areas. As a finishing indignity, he cums on her chest, his dirty slime mixing with the blood that pours out of her multiple wounds. Removing the rest of her clothing, he leaves her naked and covered in an array of bodily fluids. Who know if she will ever be found, as her body cools in this chamber of horrors.
Fetish Elements: Explicit Sexual Content, Nudity, Rape, Forced BJ, Partially Stripped, Disheveled, Clothes Ripping, Pantyhose, Boots, Choking, Cuffs, Begging, Pleading, Terror, Multi-Shooting, Blood, Bladder Release, Necro, Cum Shot, Body Views, Foot Views.