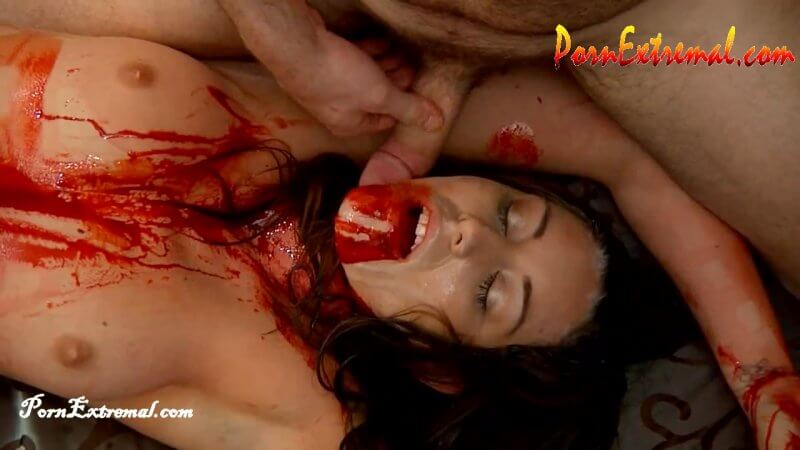 Peachy Keen Films – Sliced / Sliced Rilynn
Categories: Strangle, Death Fetish, Snuff Play, Shooting, Abuse, Rape, Bagging
Description: "Sliced"
Starring Rilynn Rae
Directed By John Marshall
She was excited when her boyfriend showed her the scream mask. She turned herself on as she waiting for him to comeback in costume. When he did, he was holding a bloody knife and a big boner poking out the front under the fabric. She smiled and when he acted forceful, using the knife to direct her what to do, she was turned on even more.
First, she lifted his robe and sucked his cock for a bit. Then, he motioned for her to lay back and she did. He took her, fucking her in his scream costume. They did all positions and when he climaxed, it covered her face.
With a big smile she got up, and he grabbed his blood REAL knife. When she turned toward him, he slashed her throat. She spun around and smacked the wall just like the girl from the movie within the actual scream movie called "stab". Now against the wall, she looked shocked—then the blood started pouring out in buckets. She slid down the wall, and the blood poured out of her neck, warm and red, soaking her skin, spreading across the floor.
As the life drained, her hand fall to the side and she was still but for a few twitches.
The boyfriend removed his costume and lifted his dead, blood-soaked girlfriend onto the bed. He fucked her mouth for a bit, then fucked her in several different positions. Finally, he came on her ass–his jizz oozing down her but crack.
When it was over, he dragged her to the floor, but left her feet on the bed with her pretty sandals on.
Contains: Violence, Nudity, Explicit Sexual Content, Throat Slice, Blood, Necro Sex, Cum Shot, Lifting, Positioning, Foot Views, Body Views.