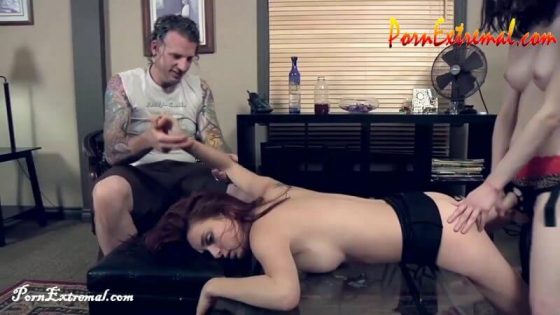 Peachy Keen Films – Two Soon Dead
Categories: Strangle, Death Fetish, Snuff Play, Shooting, Abuse, Rape, Bagging
Description: 3 Bonus features after the main movie!
Ashley is hanging out with her younger sister, Halley. Neither are old enough to drink, but they both are. Halley really wants to loosen up her often snobby sister.
Soon, Halley's boyfriend arrives and things start getting interested. It is quickly apparent that there is some tension between the sister, but soon, the alcohol starts loosening Ashley up.
Turns out, Halley drugged her sisters drink, and wants her boyfriend to rape her virgin big sister. And, so he does. Ashley is semi-conscious during the rape and wants it to stop, but is too drugged to do anything.
Later, Halley fucked her drugged sister with a strap-on. Eventually, she is fucking her bent over a table when she asks her boyfriend to kill her sister.
Ashley tries to plead, but she is too drugged, and the boyfriend, with a quick twist, snaps her neck. Ashley is dead.
This opens up for some fun, lifting and posing the dead teenagers body around the room. Halley gets jealous of how much fun her boyfriend is having with her sisters body, and threatens to tell on him. She was not being serious, of course, but he could not take any chances, and kills the little teenager with a quick twist of her head and snapped her neck.
Now, he has two dead sister to play with. He posed them a bit, fucked them, then rolled them up in the carpet and dragged them into the garage for later disposal.
Note: Following the feature presentation are 8 minutes of bonus features.
Bonus #1
The unwrapping of the girls after their carpet ride. Fun stuff.
Bonus #2
A quick set of shooting scenarios with Ashley from a movie that was never made.
Bonus #3
Real chokeholds. Ashley is made to really pass out twice and Hunter once. Watch there reactions. This is real–don't try at home.
Contains: Violence, Nudity, Explicit Sexual Content, Rape, Sexual Assault, Forced BJ X2, Forced Fingering, Crying, Begging, Chloroform, Unconscious, Gagged, Tied, Cum Shot, Facial, Garrote Strangling, Body Views, Foot Views.