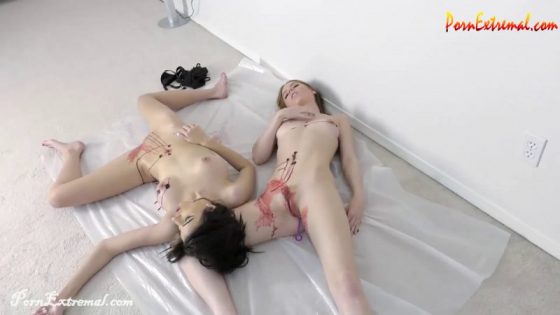 Peachy Keen Films – Basic Failure 6
Categories: Strangle, Death Fetish, Snuff Play, Shooting, Abuse, Rape, Bagging
Description: Starring Shavelle Love and Pepper Hart
Shavelle and Pepper are new recruits to whore spy training at the Spy Assassin School. It's day one and the two girls stand nervously in their sexy little spy bikinis as their new boss explains that they must train themselves to hold off orgasm, because orgasming spies give up information. He informs them that if they fail this pre-test, they will be shot by simulated bullets and experience a 24 hour simulated death. To intimidate them more, he demonstrates the 7 levels of power.
Standing side by side the two girls bend at the waist and insert their vibrating eggs into their already aroused pussies leaving the tails exposed, dangling from between their lips. The man increases the intensity, until finally it becomes too much for Shavelle, and lets out a moan signaling her cumming. The boss shoots her and she falls to the ground in pain, only for her colleague to follow suit shortly after. The two girls fall into their simulated death for 24 hours. The next day the 2 girls are practicing in their beds. The two girls lays in bed rubbing their clits as they fantasize about getting the jump on their colleague and masturbating over her body.
Day 3 arrives with the final exam and the 2 girls are scared and nervous because this time is is REAL bullets. The girls insert their eggs and the vibrations begin, starting from level 3, where they had failed before. The two girls moan and squirm with the radiating vabrations coming from deep inside their pussies. Sadistic as he is, the boss ramps up the vibes from level 5 straight to 7. Shavelle, competitive as she is squeezes Peppers nipple and it sends her over the edge. The boss immediately shoots her in the belly 3 times and then her breast. Shavelle only holds out for a few more seconds before 5 bullets enter her body as well. I guess basic training has become basic failure.
Fetish Elements: Graphic Sexual Content, Nudity, Vibrator, Gun Fun, Shooting, Simulated Death, Necro, Body Views, Foot Views..