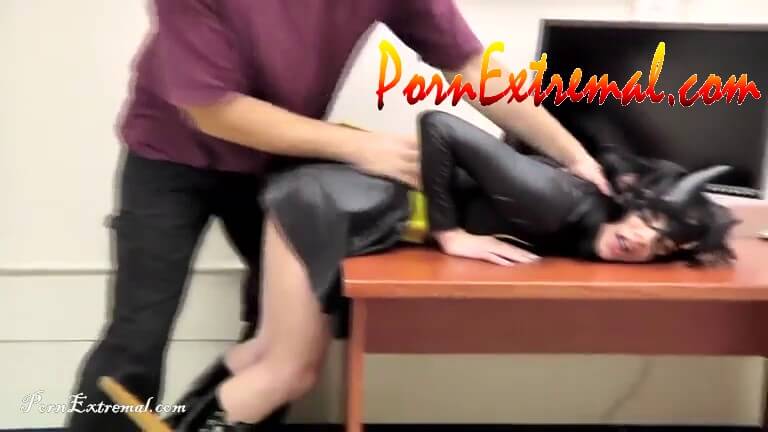 Peachy Keen Films – Batgirl Beatdown
Description: Starring Aria Alexander and Rock
Batgirl smells trouble…or maybe it's just this bandit's feet. He's snuck into a top secret organization to try and steal some files. But Batgirl has followed him. Just as he gets on the computer and starts rooting around looking for digital gold, she attacks him! She knows he's looking for the files!
They both put up a pretty good fight, throwing punches, grabbing each other, the bandit even goes for an old fashioned fake-out! She grabs his head and he elbows her in the pussy. But she recovers quickly enough to punch him in the face. The bandit smashes Batgirl with a chair, and then she grabs a keyboard and chokes him with it. He starts to strangle her with the cord but she punches him and smashes him down with her boot, then kicks him while he's down.
Finally he beats her into submission and lays her out on the desk. She looks like she could be a lot of fun. He whips out his cock and shoves it in her mouth. Grabbing her head, he fucks Batgirl's face as she lays on the desk. Then he strips off her sexy Bat Panties and fucks her. She tries to be defiant and punch him but she's under his control. He cums on her perfect ass.
She gets up, weak from being beaten down so hard and fucked. He punches her a few more times. But he's had enough of her. He pushes her up against the wall with a hand around her throat, then two hands. She slides down the wall as she chokes and gasps for breath. He wrings her neck until she dies. Finally, now he can steal his files in peace.
Fetish Elements: Explicit Sexual Content, Strangling, Hand Strangle, Superheroine, Batgirl, Costumes, Role Play, Fighting, Beating, Rape, Face Fucking, Blowjobs, Cumshot, Boot Fetish, Body Views.