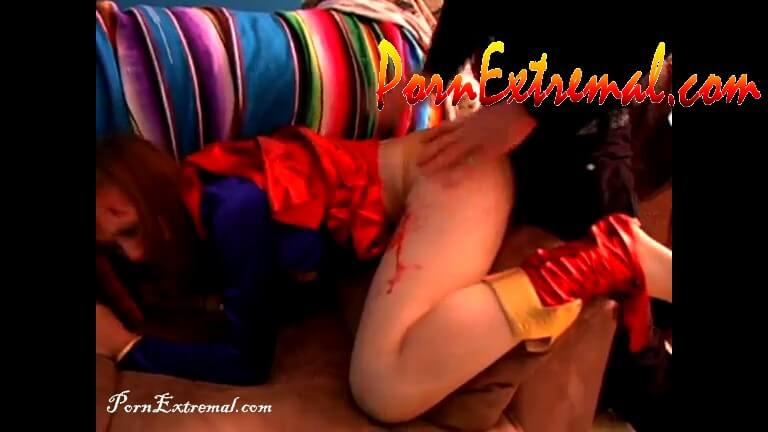 Peachy Keen Films – Supergirl Vs The Dark Stalker
Categories: Strangle, Death Fetish, Snuff Play, Shooting, Abuse, Rape, Bagging
Description: Supergirl enters the warehouse/artists workshop of her close friend and informant Nathanial. He had some information for her on the Dark Stalker, her newest and most secretive enemy. But, when she arrived, he was no where to be found.
She searched the warehouse all over and found no sign of her friend. Suddenly, the Dark Stalker appeared in a doorway. She was ready to fight, but so was he. He tossed a special crystal at her feet. Suddenly she felt all her powers being drained. She was now mortal. Before she had a chance to truly understand what happened, he came at her.
What proceeded next was the longest, nastiest beat down she ever had. He hit her in the face several times, then grabbed her by her hair, tossing her out into the open where he proceeded to gut punch her several time–ripping her suit. She was in agony, but he was not about to stop. He head butted her hard, the kneed her in the groin several times. She almost wet herself. The pain, something she normally did not feel, flowed through her intensely.
But, he was a long way from done. He clawed at her with his increadably sharp nails, ripping the fabric of her suit and slicing into her flesh.
He threw her into the next room and continued to beat her. He started punching her in the back, then rammed her into the wall. She was started to beg for him to stop, but he would not. He rammed her into the wall again,beat her some more. Now on all fours he exposed her ass and beat it red. He pulled her up by her hair, punched her in the pussy several times. She pissed herself.
Now, he grabbed her breasts and tore off her Supergirl insigna, tossing it to the dirty floor. He threw her on the couch, pulled her panties to the side and her. He fucked her long and hard, all the while she was crying and begging him to stop. When he was done, she rolled over and he had a knife. She held her hand up, and he sliced it. She staggered out of the room, but he caught her, spin her around and stabbed her several times in the belly, then once through the chest. She fell to her knees.
He sliced her across her arms and legs some more. She tried to crawl away, and he cut off her panties with he blade, then stabbed her in the ass. He took her panties as a trophy, picked up the crystal and walked away.
As he turned, she had collapsed to the floor, dead, so he left, he goal accomplished.
Supergirl lay on the floor, hair matted across her face, eyes open.