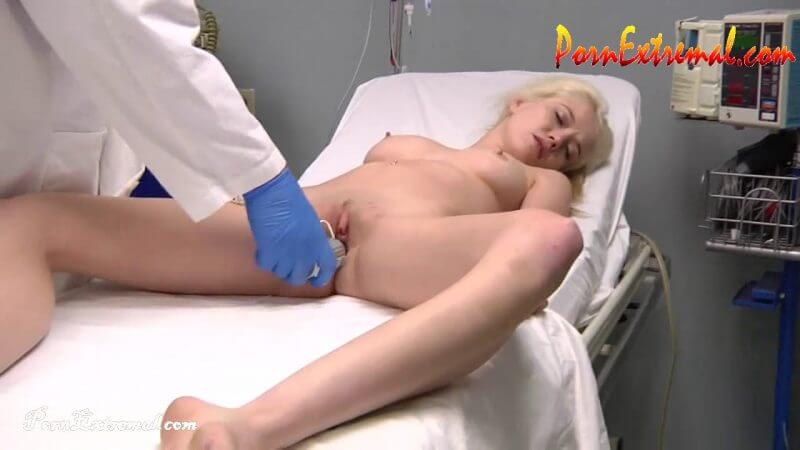 Peachy Keen Films – Special Exam
Categories: Strangle, Death Fetish, Snuff Play, Shooting, Abuse, Rape, Bagging
Description: A police officer goes in for her special exam. As she is filling our her paperwork the doctor gives her a shock with the defibrillator. He shocks her one more time to make sure she is out so the exam can begin. First, he spends some time fondling her through her clothing, then he lifts her up and carries her out.
He takes her back to the exam room and hooks her up to mixed oxygen to keep her sedated then begins the procedure. He slowly emoves her clothes, checking out her lovely body as he does. He measures her breast size. Then, he starts fingering her to determine her orgasmic response. It is good, but not what he had hoped. So, he tries oral stimulation and then some more finger fucking, but this time with latex gloves.
Finally, he moves on to his shockdildo. Using jolts of electricity, he is able to stimulate a huge orgasmic response. Later, he wakes her up, but she is unco-operative, so he puts her under gas again and continues with a few more tests before leaving her to rest.
He forgets about her and she takes in a lethal does of gas. She starts convulsing and by the time she comes to so she can try and remove the mask, she succumbs.
The doctor finds her dead. Oh well, she is still warm, so he fuck her tight pussy, then fucks her mouth until he cum in it. Semen oozing out her mouth, he leaves the dead cop laying on the table to clean up later. She failed her special exam.
Fetish Elements: Nudity, Explicit Sexual Content, Forced Orgasm, Electro Shock, Fingering, Latex, Gassing, Medical Death, Necro Sex, Necro BJ, Body Views, Foot Views.