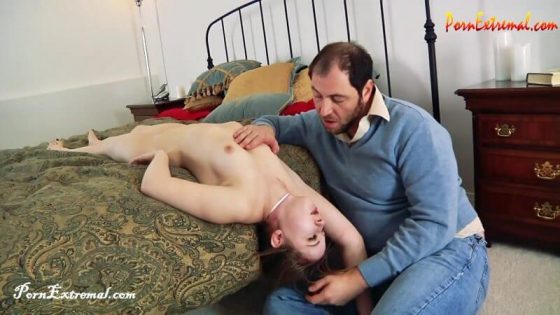 Peachy Keen Films – Body In The Box
Categories: Strangle, Death Fetish, Snuff Play, Shooting, Abuse, Rape, Bagging
Description: Starring Brooke Bliss
Directed by JohnM
Brooke is heading out for an amazing vacation to Rome and she can't wait to leave. Her cab is a little late, but she gets a text from the driver, he's outside.
Later, a man brings a cardboard box into his living room on a dolly. He slices open the top revealing Brooke's dead body stuffed inside. He dumps her on the floor, her body beaten and bruised, a piece of cloth tied tightly around her neck.
He begins by laying her out on the floor as he examines her. He picks up her by her feet and carries her upside to his bedroom upstairs. He strips off her one remaining shoe and her khaki pants, followed by her knee-high socks. He fondles her skin, rubbing her breasts, admiring her neck. He places gentle kisses on her skin, he wants to take his time with her.
He spreads her pussy and begins licking her clit. He raises her ass into the air and begins fucking her from behind, slowly at first, her head rubbing against the comforter, her breasts bouncing with each thrust. He positions Brooke's head over the side of the bed, and slides his cock deep down into her throat, fucking her still warm mouth.
He climbs on top of her and wraps his hand around her neck, squeezing as he fucks her hard. He cums inside her, exhausted and ready for a break. He hangs her over the side of the bed, legs spread, as he leaves to recuperate before he continues to break in his special little toy.
Fetish Elements: Explicit Sexual Content, Kidnap, Stripping, Lift & Carry, Tit Play, Kissing, Pussy Eating, Necro, Necro Fucking, Necro Blow Job, Cumming, Body Views, Foot Views.