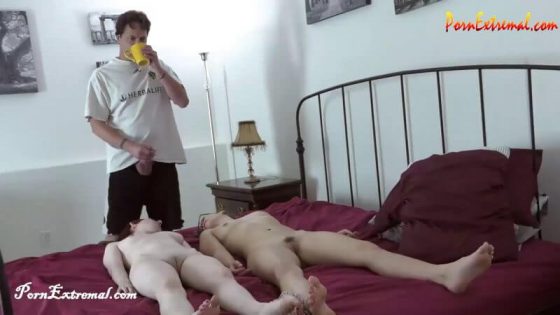 Peachy Keen Films – The Silent Killer
Categories: Strangle, Death Fetish, Snuff Play, Shooting, Abuse, Rape, Bagging
Description: Starring Penny Lay & Norah Nova
Directed by JohnM
Penny, the little freak that she is, has found a quiet moment in the house to peruse through her m0thers panty drawer. She loves m0mmies panties, the softness…the smell. She bends over the drawer and searches for the perfect pair, her cute little tush and panty covered pussy peaks out from her skirt. Little does she know m0m has come home early and spies her sexy little whore davghter through the door jam left slightly ajar.
M0mmie Norah rubs her clit as she watches her little one stuff a stingy little pink thong into her pussy. Norah feels it's time to see what's going on and walks in the room to playfully "confront" her in the act. She demands her panties back. When sweet Penny refuses to give them up she bends her little lady over to find just a bit of her panties peaking out from her puffy little pussy lips. What do we have here? She pulls the thong out far enough to grip it with her teeth and affixes it to her davghters big toe while she spanks her for being such a naughty girl. She pulls them out of her and shoves them in Penny's little slut mouth. Penny becomes slightly confused as to whats happening but goes along as her m0ther begins undressing herself…and her.
Penny licks her m0ther's pussy after seeing a new piercing she doesn't have herself. Norah turned on by this makes her davghter spread her legs and the two begin scissoring and grinding eachothers pussies against eachother. The two girls giggle and moan in total taboo bliss until they both cum and collapse on the bed together.
Unbeknownst to them, a man has been waiting for just such a moment. While they lay, naked, in each other's arms, a length of rubber tubing slides under the door, a vile, green gas billowing from the end. The lethal fumes fill the room and both m0ther and davghter begin to choke and convulse, lungs craving air, but finding only poison. After tortured moments of agonizing pain, they are finally still, killed by the silent gas.
After waiting for the gas to dissipate, the man enters the room, excited by the two naked corpses on the bed. He gropes and fondles their sexy bodies, rubbing his hard cock on their faces and tasting both of their pussies. Obsessed with their feet, he nibbles at their toes and holds their soles to his face to inhale their essence. Both their cunt are invaded by his meaty pole, dead eyes staring blindly, while he defiles their tight holes. Using their dainty feet to jerk his throbbing manhood, the man finally erupts, spraying the two of them with hot, sticky cum. Two for the price of one? That man must love it when a plan comes together.
Fetish Elements: Explicit Sexual Content, Nudity, Taboo, Panty Stuffing, Female Masturbation, Lesbian Scissoring, Female Orgasm, Poison Gas, Asphyxiation, Convulsions, Death, Necro Pussy Licking, Necro Sex, Necro Footjob, Foot Fetish, Cumshot, Body Views, Foot Views.