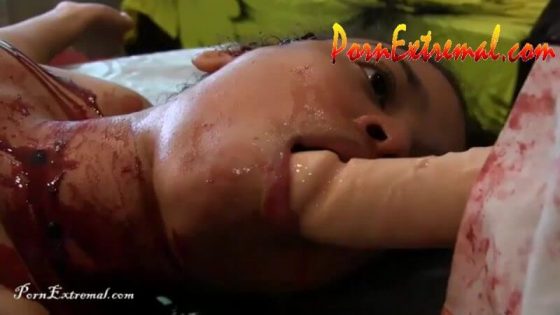 [New, Joint] Chris' Corner – Obliterated For Pleasure
Categories: Snuff Fetish, Rape, Strangle, Bagging, Shooting, Abused
Description: From the same writer as: SHOT TO HELL, BEATDOWN BETRAYAL, and HUNG DEAD LOVER, this one being his favorite so far.
It is focused on a brutal hitman who gets the pleasure of a great, and very long BJ by using the gun to shoot the body over and over in different places to feel the jolts, jerks, spasms, twitches, on his dick while he shoots her. It is very erotic and Freya is amazing at staying dead and is so convincing in being shot over and over after dying in the first few minutes.
A well dressed hit man sits on a couch, looking at the doorway, and the plastic, towels, and absorbent materials he has compiled around the folding table that is also taped up in plastic. He knows that in a few seconds his mark will come through the door and not even know what is going on. She comes in and asks him, "who the f are you, what do you want?" He has a simple, "I almost feel sorry for you but I am going to have so much fun, thwerplunk…she grasps at the base of her neck, which squirts blood on the door as she gurgles and is knocked back in the corner, she bleeds and tries to make any sense of it, but he is on her grabbing her hair and dragging her on her feet to the table, where he tosses her onto the table and pulls out a survival blade, cutting her straps and then middle of her shirt to see her perfect tits as she bleeds profusely from her throat. He is calm and collective, enjoying every moment as he sucks her brown nipples and rubs her pussy through her jeans. He puts his knife down and replaces it with the gun and goes back to enjoying her kissing her face, brushing her body and tits, licking her and getting horny. He takes his dick out and sticks it hard in her mouth, he strokes it inside and out a few times, bending it in her cheek as she gags like a fish, causing it to feel like he is getting a grade A blow job. He lets her gag a while on his cock as she drips blood from her throat and a bit from her mouth. He fucks her face and slides his dick over her face and mouth to get some extra pleasure, grabbing the silenced pistol and pointing down at her lower pelvis in her jeans, as he gets his dick in and out he stills for a moment to shoot her in the pelvis and feel the jerk on his dick. He shoots a couple of quick rounds in her pelvis in the same hole, making it bloody and large, he feels her move on his dick and he needs more. As he fires in her pelvis again she jerks hard and her eyes flutter back in her head and she dies with a nice jiggle and she pisses herself. Her blue jeans get dark and piss comes from her underside onto the plastic, dripping off her boots. All the while he is getting his dick sucked by a now dead mark, that is very appealing and now that she is finally dead, he will enjoy her more. He fucks her face and continues to shoot rounds into her, even changing out his magazine a few times to reload. He shoots her everywhere on her body he can reach, shooting into many of the same holes multiple times which just opens them wider and causes more hemorrhaging and the blood flows from the body. After 60 or more shots into her and he needs to blow his load into her mouth, he shoots her a few more times in the temple, and pelvis, breast and chest, as he cums and fucks her face, popping her here and there as the cum and blood drip from her mouth as he rams his dick in and out. Loving his long orgasm and watching the bitch jolt when he shoots her, he wants to do more. The hit man goes down to her pussy and shoots her in the cunt a few times, around the same hole, digging it out and soaking the table in blood, pools of it. She pisses herself again. Each time he loves to see her body jerk and her boots kick out and hands flail up and down as he shoots her over and over for his own pleasure. After he amuses himself with the multiple shots he decides he needs to unload another clip into her so he moves up to her head and sticks the gun in her mouth, fucking her mouth really good with the silencer. He pulls the trigger once as her head jerks, then lays it down.He grabs her head by the hair and shoots her over and over in the forehead before shooting her in the mouth several times again as the blood puddles up under her hair. He lets her head fall after looking at her, then pops his last few rounds into her pelvis and pussy, then checks them with his fingers before exiting while removing the suppressor. The totally shot to pieces and violated over and over in her mouth lays dead on the table, covered in blood and piss from multiple shots and multiple bladder releases throughout her obliteration. Brutal. Body pans follow.
Awesome film and they are great actors, wow that really took it out of me editing all thje gunshots..lol Enjoy this it will NOT disappoint! CB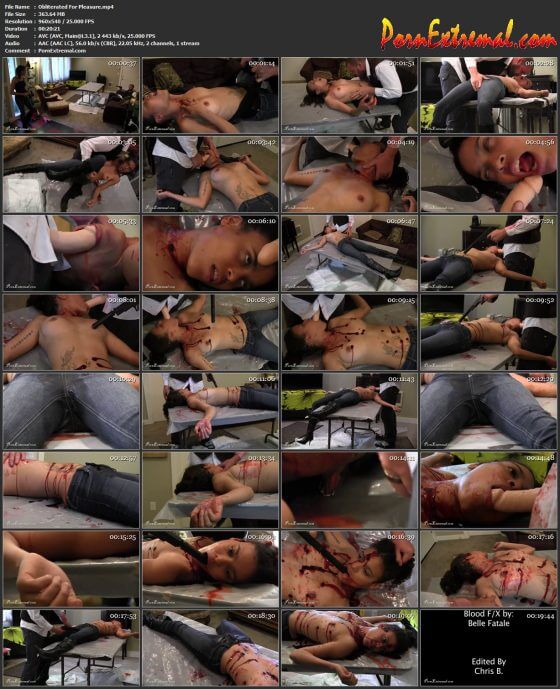 Obliterated For Pleasure.mp4